Believe or Not: Angola- The Highest GDP Growth in the World
Think China with it's 8.5% GDP growth is still the highest in the World? Think again. The politically stable country of Angola, located in the Southwest corner of Africa, has 11% annual GDP growth and currently holds the title of the country with the highest GDP growth on Planet Earth.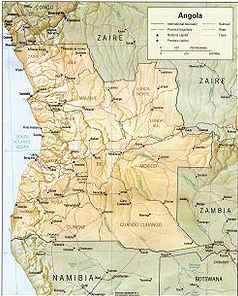 This former Portuguese Colony went through an intense Civil War for 27 years- 1975 to 2002. Angola has vast natural resources - mineral and petroleum reserves. This country is the 2nd high oil producer in Africa and the 5th largest diamond producer in the world. The Heritage Foundation estimates Angola is the single largest supplier of oil to China.
Despite having double digit GDP growth since the end of its Civil War, Angola has one of the lowest average life expectancy rates in the world, and one of the highest infant mortality rates.
Angola has about 19 million people. The country adopted in new constitution in 2010, and is trying very hard to improve it's rather poor ranking in human rights and income disparity. The new constitution gave more power to the Presidency. The President comes out of the ruling party, and there are elections coming in September.
As part of effort to improve the quality of life for Angola's citizen's, the government adopted the "Water For All Program" in 2007, and has been seeking solutions to provide quality drinking water for the country's vast rural populations. The "Water For All Program" has been funded with $1 BILLION by the government- yes- that's $1 Billion with a capital "B".
The subject of today's edition is new idea Quest Water Global (QWTR)- Quest was given a mandate from the Angolan government to develop a water purification system that will clean contaminated river and lake water in rural areas where power sources can't be found.
Quest has answered the call and delivered two systems in 2012- one of which is installed and working flawlessly using solar power.
For your consideration: Quest Water Global Inc (OTC BB: QWTR):
Quest Water (OTC BB: QWTR): Delivers The Solution
The say one picture replaces 1,000 words. Here's 2 pictures - I'm saving you reading 2,000 words. These pictures appeared in an article from Vancouver's North Shore News on Sunday, June 17th.
You are looking at a picture of the world's first functioning AQUAtap Community Drinking Water Station, located in Bom Jesus, Angola. It's was installed this past March. This unit produces 20,000 clean liters of water per day, and requires no electricity, fuel, or chemicals of any kind. The unit produces no waste or harmful by-products.
The water, drawn from a nearby river, passes through a series of self cleaning filters, ultraviolet disinfection, and then goes into one of 2,000 liter holding tanks. Prior to dispensing to the end user, the water passes through one more ultraviolet filter. The unit runs on solar power.
The cost of the unit is $150,000. Quest plans to manufacture in Angola, which would reduce the cost to the Angolan Government to $120,000-with a 50% gross margin for QWTR.
QWTR is working on a partnership with the Angolan Government under the Water For All Program that initially called for 275 units. After the success of the initial installation, the two sides are talking about potential orders for thousands of units.
Other African countries have expressed interest as well- specifically Tanzania and Mozambique.
The Eye Opening Economics
The economics of the system are eye opening and impressive. Consider these numbers: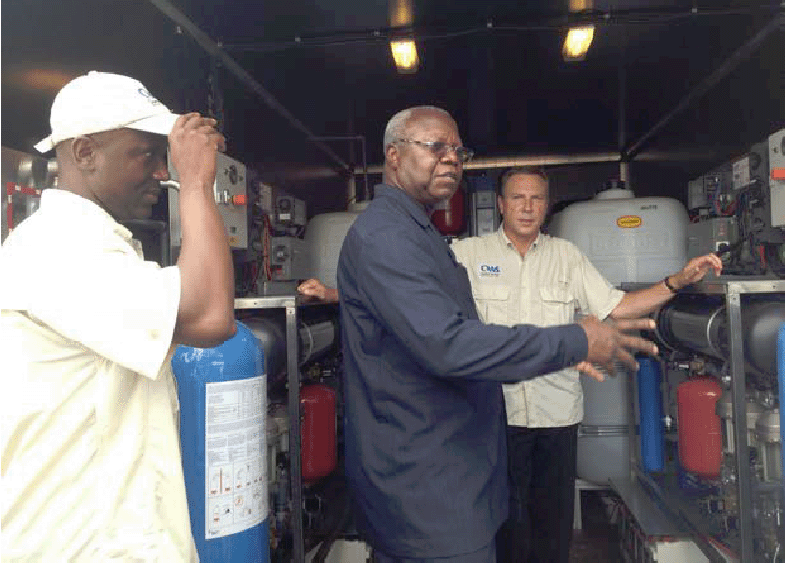 Imported Bottled Water costs $2 to $3 per liter
Local Bottled Water costs $1 per liter
Water from the AQUAtap solution costs $.0023 per liter- that's 2/10ths of one cent per liter.
Pictured here you see Dr. Kiala Ngone Gabriel, the Angolan Secretary of State for Industry. Dr. Gabriel performed the dedication ceremony back on March 16th, and is spearheading efforts within the government to go into mass production of the AQUAtap units.
All of Africa is now taking notice of this new and revolutionary technology. This past Thursday QWTR disclosed it had received a Letter of Intent from the African Development Bank to finance the build out of a production facility in Angola.
An investment of $5.5 to $6 million would be required for the first facility, and this loan would cover the cost of construction, inventory, and working capital.
This news was big enough to be picked up by Bloomberg/BusinessWeek- which inevitably bring a larger audience to the company and more importantly to the stock.
Click Hereto read the article, or go to:
http://www.businessweek.com/news/2012-07-26/quest-water-seeks-afdb-funds-for-water-from-air-in-angola
The Technical Picture: Headed Higher on Higher Volume
Lots of factors are working in favor of QWTR. As you can see from the chart, volume has been picking up of late with a big surge three days ago in conjunction with the corporate update that contained the news about the funding Letter Of Intent with the African Development Bank.
Goldman Sach's recent research report, referencing Water as the Oil of the 21st Century has investors seeking ideas in this arena.
The market is beginning to price the strong possibility of a large order and or agreement to purchase thousands of units from QWTR as they can be produced- and since they can be produced in their own country, this becomes an opportunity for the Angolan Government to produce both clean water and new jobs for its citizens.
With one in five Angolan children dying from exposure to contaminated drinking water, the need, amplified by the coming elections, puts QTWR in a position where positive events might be developing sooner rather than later.
The stock is also trading in an unquestionable up trend (see the green arrow). It will keep going higher until proven otherwise.
When I started studying this company, I was so impressed with what I read I began to accumulate the stock.
At present, I own 19,500 shares I picked up last week at an average cost of $1.2085. The stock closed at $1.23 on Friday, so it's up less than 2 cents over the level I own it at.
I'm hoping the up trend continues, and I hope it accelerates with either news or more recognition of what the company has accomplished. I'm looking for the stock to trade into the $1.75 to $2 range in the next two to four weeks.
My suggestion would be to accumulate this one right up to $1.30, with a $1.10 SSL (suggested stop loss). I'm looking to take a full or partial profit in the $1.75 to $2 range. I also reserve the right to buy and/or sell QWTR at any time without prior notification.
If you liked getting out in front of the big volume surges in LUXR, VRNG, and BRFH, I suggest you take a hard look at this idea. I'll be following this one for some time, expect updates and more information.
---
A reminder: Catch me live on TV every Monday from 12 to 2PM eastern.
Simply go to www.bigbizshow.com, and click on the "Watch Us Live" button. I'm the guest host on the show every Monday.
Home Page : www.otcjournal.com
Email Questions or Comments To: [email protected]