For those of you who have been watching, HDY hit the perfect entry level this morning and rebounded nicely when it was achieved.
I am not a believer in buying stocks when they are charging up the charts. I like to wait for pullbacks to certain retracement levels before accumulating.
Despite having missed the big move off the bottom as news came out concerning the potential restart of the Guinea project, I was patiently waiting for a 61.8% retracement of the surge.
It came this morning as the stock hit the $1.52 mark, dropped slightly below, the rebounded rapidly.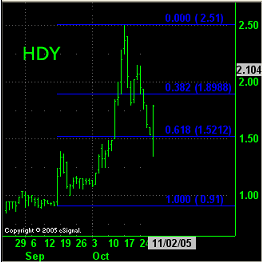 I stepped in for a small opening position of 5,000 shares at $1.75 having missed the perfect retracement. News came out of an office opening in Guinea, and the stock climbed quickly. I will continue accumulating for my own account, especially if the stock pulls back a bit.