PLTG's quarterly filing finally made it to Edgar late last week, and I had a chance to run through the report this morning.
On the good news front, this is the first quarter the company has actually generated revenues, albeit a far lower number than I was led to believe and hoping for.
Revenues were $123,000. That's a miniscule number for a public company, but it compares quite favorably with the virtual zero they had before.
When I first interviewed the CEO in June, he told me he felt the company might be able to generate $1 million per month by this time. Clearly- not even close.
One mitigating circumstance is the price of oil and natural gas. NG has been cut in half, and oil is cut down to 1/3 of where it was. Has commodity prices held, they might have done much better. These price drops did not help.
The other challenge the company is experiencing is a delay in bringing all ten of their wells on line in a timely manner. Whether this is temporary or a much larger challenge, I can't say.
The stock price is in the absolute toilet on this one. I believe there are three major issues. The first is- of course- the overall market. It has been terrible and has hurt all equities- especially resource companies.
Secondly- dillution could be playing a major role in the problems with the stock itself. The company has issued a series of complicated convertible preferreds, and a number of preferred holders converted to common stock. It's tough to quantify, but it could explain the exacerbated supply.
Thirdly- more dillution. The shares I&O went from 150.6 million to 188 million in one quarter. That's 25% dillution in three months. I don't know how many, but I'd bet my bottom dollar a bunch of those shares were sold indiscriminately into the markets, forcing the price down.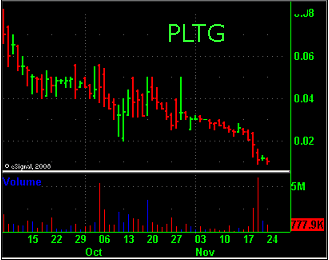 If review the 10Q, you will recognize PLTG has a history of paying for all sorts of things by issuing stock. Lawsuits have been settled that way, drilling rights have been acquired, consulting services have been paid for, interest payments on loans- all paid for with stock- hence the massive dilution.
This can be a good strategy for a small company looking to get started, but it can backfire in brutal market conditions. I believe that's the case here.
The bottom line on PLTG- hardly worth selling at one penny. If it's going to be a tax loss sale, you can always take your losses later in the year.
According to the financial statement, the company has nearly $8 million in "unproven reserves", but CEO Merriam believes it is a lot more.
Oil and gas prices are likely to go up from here, and the company has to get all of their 10 wells online and producing revenues.
I would not be a buyer quite yet. I'd like a little more clarity on more operational wells, and I'd like the company to stop issuing stock in such massive quantities.
I would just characterize this one as a hold for now, and give them the benefit of the doubt. In general, things are likely to get better from here, but you never can tell for sure.
Comments and questions are welcome.