Want to know the penny stocks that other speculators found most compelling late last week? Here are four of Friday's very favorite penny stocks, as measured by trading volume, net buying, and a loud buzz within the trading community. Who knows… maybe there's nice trade waiting for you with one of these charts.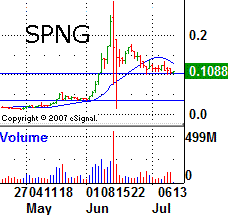 SpongeTech Delivery Systems, Inc. (SPNG)
Though SpongeTech shares actually closed lower on Friday, there some intra-day gains on high volume and intra-day pullbacks on low volume actually suggest it was more purchased on a net basis. Frankly though, when I look at the chart I can't see much besides a big selloff setting up.
The key is support at 10 cents. If it breaks, I think SPNG could make its way to as low as 3.6 cents (May's low) before it's all said and done.
I wouldn't get too comfortable with being on one side or the other with this stock though… particularly the short side. SpongeTech has made a habit of pushing out good news, and the market is eating it up (and buying shares) on a regular basis.
It's a great trading stock… lots of up and down.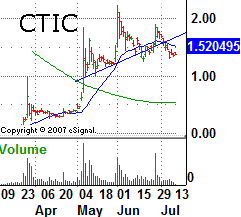 Cell Therapeutics, Inc. (CTIC)
Here's another stock the market wants to love, and is desperate to find any reason to do so. So, the contrarian in me says we may be at the point where there's just no upside left to give.
The nail in that contrarian coffin may have come last week when the Motley Fool named this penny stock as one of "3 Stocks Ready to Soar". See, the Motley Fool has mastered the fine art of "right stock, wrong time". Their writers are also under the illusion that penny stocks actually trade at what they're worth. (The Fool is a little out of its element when it comes to penny stocks… not sure why they tiptoed in here.)
Anyway, Cell Therapeutics is the maker of Pixantrone - a leukemia and lymphoma treatment that caused quite a stir when the FDA delayed their final decision on the drug's approval. As time has moved on, more and more doubt has been raised regarding the drug; some heart problem shave been linked to its use in the meantime.
Nobody, including me, can say whether or not Pixantrone will be approved. Given all the delays and the surfacing of questions that were supposed to have been answered prior to the approval request, this penny stock just gives me a bad feeling.
Moreover, the chart itself seems to be suggesting trouble. The company has induced four distinct rallies since March, but has yet to deliver anything of real value. The last peak was lower than the third one, perhaps telling us the market's tired of waiting. If $1.26 falls as support, I can see this one coming unraveled in a hurry.
Oh, like SpongeTech, CTIC shares closed lower on Friday, but a handful of high-volume surges during the session hint that more traders were getting into a position.
Inca Designs, Inc. (IDGI)
Though it's a pink sheet stock, the company has actually been reporting results to the SEC… sort of. The updates stopped in October of last year, as did any meaningful communication with its investors. Strike one.
So how did this penny stock manage to move from $0.015 to $0.019 last Friday (and from $0.008 to $0.019 in July so far)? That's just it… it's nothing the company did. The company itself has been dormant on the IR front.
What's going on here is an amazing pumping and bashing war, which the pumpers have clearly been winning of late. Even if you never look at them, check out the message boards for this penny stock. You'll find some really well-reasoned arguments for and against Inca. Some of them may even be based on facts.
This is strictly a trading stock, since there's no telling what's really going on with the company. I'd just follow the lead of whichever side is winning the pump/bash war at the time. After Friday's burst, I'd be inclined to try and ride a selloff lower.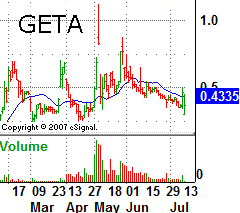 Genta Incorporated (GETA)
This one formerly traded under the ticker "GNTA", but a reverse stock split (1 for 50) this morning also brought about a change in the ticker…. to GETA. Many resources still have it listed under the old ticker though.
If my math is right, Friday's closing price of $0.0093 for this penny stock should become $0.465.
A little back story… Genta is the developer of Tesetaxel - an oral anticancer taxane (treatment) that appears to be effective so far through Phase II testing. The company's melanoma treatment Genasense is entering Phase III testing, and also look pretty effective to date.
The problem is, the company was running out of money. Rumors of a fund raising or bringing a cash-rich partner on board were batted around. The former one became reality though, as Genta raised $10 million last week through the sale of new common stock. (Though this has next to nothing to do with the split, it's still good to know.)
So what prompted Friday's surge? Nothing other than the stock split, which is probably assumed to make the stock's price a little more palatable to those who just can't get over the mental hurdle of buying a stock that was priced less than one cent per share. Though it's nothing, it may have been a wise move because, investors do make a difference between a 1 cents stock and a 50 cent stock.
This is a good 'trading' stock, and I have to wonder of Friday's rally jump-started yet another upside swing.
That's it for now, but be sure to register for our free newsletter. That's how we deliver the 'best of the best' penny stock ideas and information. The newsletter even includes specific entry and exit levels.