Global ePoint is finally rebouding today after a tough month. Late Friday, GEPT announced it had received FAA certification on the Boeing 777 for its video cockpit surveillance technology, and the news has the stock on the move.
Despite the poor performance in January, this stock could be a lot of fun to trade as it is very volatile and volatility lends itself to good trading if you can get on the right side of it.
I believe the news flow out of the company is going to pick up from here forward. Sources tell me the company has a renewed commitment to shareholder information. No guarantees- time will tell.
However, I am pretty sure the stock wants to find its way back over the $5 level in fairly short order-maybe over the next two to four weeks.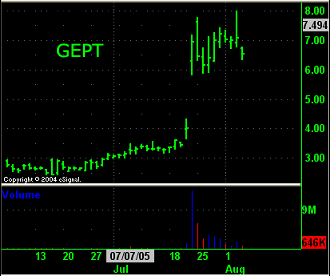 Here's an extremely short term look at the stock as measured from last week's low. Today, the high trade has been $4.40- last week's low was $3.50.  A 50% retracement of that move would be just under the $4 level. No use splitting hairs over a couple of cents- the idea is either going to work or it's not going to work whether you own it at $3.98 or $4.02. Therefore, for those looking for a good level to get in, I believe around the $4 mark looks very good as an entry point.