US Energy (OTC BB: HYFS) is a must own for your microcap portfolio in today's environment.
I was sitting in a hotel in NYC last night watching CNBC and the evening news on all the major networks. Within 90 minutes I counted 7 reports on the high price of fuel.
With $3 gas here to stay, the price at the pump, and of course the price oil, have become fodder for the media. Expect a lot more of it as oil marches north to the inevitable technical price of $82 per barrel (that's the subject of another edition).
I found President Bush's remarks about supply/demand imbalances interesting. Want to knock $20 off the price of oil? - unwind the failing war in Iraq, or achieve the objective. Want to knock at least $.25 per gallon off the price?- get rid of this insane ethanol additive that no one is prepared handle at the refinery level.
HYFS has developed a retrofit system that converts diesel engines to a hybrid that burns diesel/natural gas. Cost savings are dramatic and there is no sacrifice of power.
In the Far East diesel fuels sells for upwards of 7 times what it does in N America- and they are working overtime to build using very heavy equipment.
If this company starts landing high profile contracts, in this environment the stock will simply go nuts- plain and simple. Remember what dot-com stocks did in the internet boom? how about oil stocks last year? The bubble is inflating again.
When I published last week's initial presentation on the stock it was trading at $.28- since then it has seen a high of $.34- another perfect 61.8% retracement entry level. Here's the chart: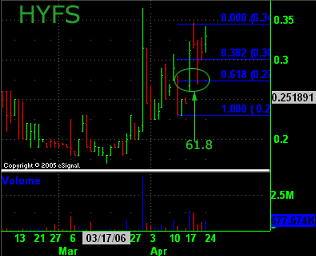 Once again, the 61.8% retracement served as a nearly perfect entry level. I never ceases to amaze me how well this works. You almost always get a bounce off the 61.8- thank you Mr. Fibonacci. It works in the short term- longer term it's all about corporate performance and being in the right industry group at the right time.
There is money to be made in alternative energy and fuel savings coming for some time to come. This is my first idea in this arena, and I expect it to be a huge win.
HYFS: This one is definately the right idea at the right time. 
Comments and questions are welcome.