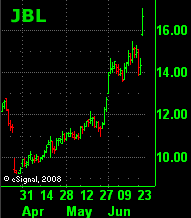 Jabil Circuit's (NYSE: JBL) strong earnings and forecast has been a feature of financial media sites and networks all over the news today. The stock's up almost 100% as I write from its all-time low of $9.03 back in March of this year, and has provided quite a lift today for most of the cell phone sector. If you would have bought JBL when it capitulated to an all-time low on huge volume back in March of this year, you would have been heavily rewarded today.
What does that have to do with the Spicy Pickle? Quite often the market proves over and over again the best time to buy stocks is when nobody wants them. Hence, the Pickle in the last two days appears to be a victim of nothing other than seller/sellers not wanting to own the stock any longer. The stock traded as low as $.69 cents this morning on slightly higher than average volume.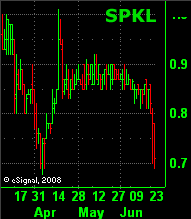 This would have thrown up a potential red flag to us if there were some significant corporate events that warrant the selling, but that simply doesn't appear to be the case. If anything, maybe getting some of these anxious sellers out may end up being a good thing for SPKL shares in the future.
In other words, if you liked the Pickle as an investment prospect on Friday, then yesterday and today pose an even better buying opportunity for the long haul. It's not much different than buying a product on sale when the product itself hasn't changed. The Company continues to execute and we believe its growth plans are firmly intact.
Bottom line? My experience tells me the last few days will prove over time to have been a great buying opportunity for SPKL investors.