They say timing is everything. My timing was off, but not by much on this one. CPNE busted through my $2 price target today. I thought it would get there in 2006- better late than never. 30 days is nothing in the whole scheme of things.
Like PNWIF, I would not be an aggressive seller of this one. The stock is behaving as if something very positive is going to come out of the company, and I would hang in there to find out what it is.
Here's your chart: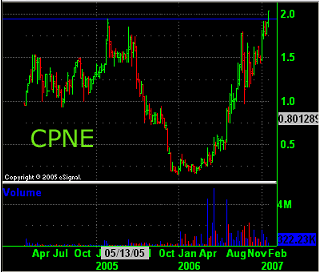 This is a weekly chart. As you can see, the previous all time high was set in February of 2005 at $1.945. As I write this today, this stock is trading at $2.07- a clear breakout.
Fundamentally, the stock is worth $4, hands down, if the company can continue delivering the numbers and growth it has delivered in the past 3 quarters.
I have a high level of confidence CPNE will deliver good numbers in Q4 '06 and Q5 '07. I don't have much visibility beyond that.
If you feel you have to sell some, don't sell too much. This could be just the beginning.
Comments and questions and self congratulations from believers are welcome.