US Energy made a valiant effort to come up off the canvas last week, but the move was short lived and the stock seems to be slipping back into a coma.
Sometimes the stock market just doesn't make sense. This is the case with US Energy. One would think the market would be willing to give the company the benefit of the doubt- after all, they have the right product at the right time and the right contracts.
However, it seems investors have a hair trigger for this one, and I don't quite understand why.
Here's a very short term look at the stock: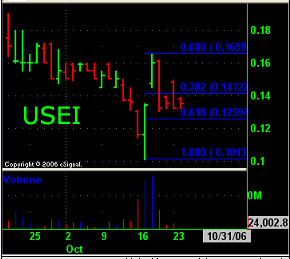 The chart shows last week's move up from the absurdly oversold level of just over $.10. All the company did was put out a press release reminding investors about their achievements.
As you can see, we had a couple of big days on the volume side, and the stock traded up nicely. As has been the case with this one all along, the move did not hold, and sellers have pushed it back down a bit, albeit on much lighter volume.
Now would be a great time for the company to deliver more substantive news. I'm not sure what could top a $54 million contract over 5 years- perhaps news of the first purchase orders from the contract.
Here's where we are today- the perfect level to buy this stock based on this very short term look would be $.126.
Therefore, my SSL for the stock is now $.12 if you are a trader. For long term investors- just stay the course- I believe the company will be delivering increasing revenues for at least the next three plus quarters, and the valuation is absurd at these levels relative to what they have announced.
Comments and questions are welcome.