I spent a lot of time this spring learning about Stem Cell Technology. I now understand just enough to be completely uniformed and somewhat dangerous.
There are a couple of things I do understand about Stem Cells: 1. They represent a true potential "cure" for many very nasty diseases. 2. Stem Cells can literally "morph" diseased or damaged cells into healthy cells, and 3. The demand for effective Stem Cell therapies is going to go through the roof over the next 20 years.
I also understand there are two types of Stem Cells- Fetal and Adult. Fetal are far more robust and a bit schizophrenic. Adult are less potent, but a little more predictable.
Adult stem cells are completely non controversial. Fetal are controversial because there is a perception a future "potential life" must be lost in order to collect fetal stem cells. This is simply not the case.
Unless there is a major change in the current political climate, it would appear the recent gains made by conservatives are giving way to a more liberal approach to certain issues. This is not a political statement of postition- just an observation.
I have two offering in the Stem Cell arena- Advanced Cellular (OTC BB: ACTC), and Medistem (OTC BB: MDSM). Each offers different kinds of opportunity in the same space. Medistem, through a licensed clinic in Costa Rica, will be actually treating patients with adult Stem Cells in the near future.
Advanced Cellular, over the long term, has the more interesting science. They have demonstrated they can create Fetal Stem Cells from fertilized human eggs without harming the potential life. The fertilized egg can be taken to term.
They are going to be starting clinical trials for their therapies later this year and into 2007- they are focusing their intial energies on eye disease, dermal repair (burn victims and other maladies of the skin), and heart disease.
Their management team reads like a Who's Who in the Stem Cell field. It's a remarkable opporunity in microcap form. They have been mentioned twice in NY Times articles.
I believe this stock will trade beautifully at some point in the future- whenever the market turns its fickle attention back to Stem Cells. Late this year the $3 billion California initiative to fund Stem Cell companies should clear a bunch of legal hurdles- I believe that could be the catalyst that puts a charge back into Stem Cells stocks.
In the interim, if you want a microcap position in a high risk/high potential reward stem cell situation, ACTC fits the bill. Here's a chart: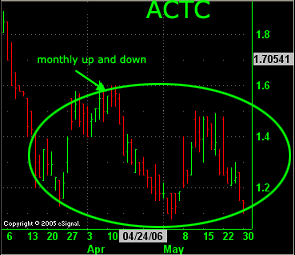 If you want a full explanation of the expected ups and downs in this stock, please go back and read the initial presentation- you will find it in the current profiles archive section.
In short, in the initial presentation I suggested the stock would be subject to monthly swings, and therefore should be accumulated on dips. The downdrafts are generated by $750,000 worth of free trading shares that are awarded to financiers with itchy trigger fingers every month.
Therefore, particularly in tough markets like this, we can expect this stock to swoon every month. It is a very predictable buying opportunity. Notice in the chart I have circled the two moves up and down in the two months I have been covering the company. This pattern should continue up until the time the market falls in love with Stem Cell stocks again.
If you are thinking long term, and want to own a piece of a wonderfully exciting microcap stock with very futuristic technology, accumulate this one on the dips.
Comments and questions are welcome.