American Water Star hasn't had much to say for a very long time. Since the late October conference call when Chairman Roger Mohlman boldly predicted the company was positioned to achieve the $80 to $100 million revenue mark in '05, there has been little tangible news coming out of AMW.
They have announced several new distribution arrangements and a small acquisition, but there has been no disclosure of any kind concerning hard numbers.
The stock is not trading as if the company were achieving the predicted success. Year end numbers are due out very soon, and 1st quarter numbers should follow close behind.
Those who have been following my commentary know my view- I'm not really concerned about the last quarter of '04. I'm relatively certain it will be better than q3, which was a disaster.
Q1 of '05 is the benchmark quarter as far as I am concerned.  If the company does not achieve at least $10 million in sales, the predicted $80 million in '05 will be very much in question in my view.
AMW's Roger Mohlman is conducting another conference call this coming Tuesday, March 29th, at 4:14 PM eastern, 1:15 Pacific.  The dial in number is  800-977-8002, pin # 314935. For more information, here is a link to the press release:
http://biz.yahoo.com/bw/050322/225815_1.html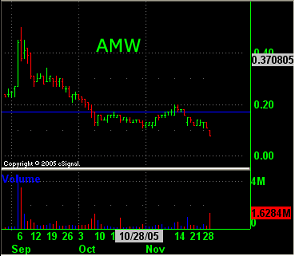 As you can see from this chart going back to AMW's listing on the AMEX, this stock has not been a lot of fun to own.  The institutional investors who financed the company at $.90 all bailed when the company fell on hard times last summer.
Tuesday's call will be interesting. No doubt, it relates to year end numbers and hopefully some hard information concerning their current run rate. They have the infrastructure in place to deliver the sales, now we just have to find out if they are getting the job done.
If they aren't, they have no one to blame but themselves. I am prepared to give them the benefit of the doubt and wait for the facts.