Procera Networks(PKT) on the AMEX is my most current trade idea. The stock is clearly gaining momentum. I provided a Live Chart strong buy recommendation on the stock at $.80 just a few days ago, and the stock surged through $1 yesterday for the first time since October and looking like it wants to work a lot higher.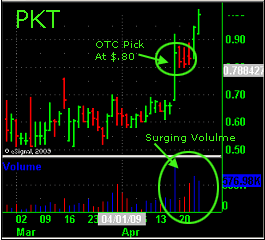 It's a software company- they're in the business of helping ISPs (internet service providers) save money by routing their traffic more efficiently based on importance.
Jackson Spears, analyst at Robbins Group and personal acquitance, has a strong speculative buy recommendation on the stock. He believes their losses on $12 million in revenues in CY '08 will convert to EPS of $.05 on $28 million in revs in CY '09. His short term price target is $2.
The stock clearly is entitled to honorable mention for its chart this past week. As you can see, just since I posted the buy recommendation on the stock at $.80 on the 20th, the stock has already provided a 25% return. Volume and price are surging simultaneously.
People, things are starting to happen fast and furious. These absurdly oversold stocks are coming off the canvas and gaining ground. Don't sit on the sidelines and watch these stocks start to trade back up. Act quickly and decisively when you read something you like. We're going to start making money on a more consistent basis again.
It's long overdue as we are a year into this Bear Market, and if you're like me, it's worn you out a bit. Time to get back to our former winning ways.
Comments and questions are welcome.