Email : info@otcjournal.com
URL : http://www.otcjournal.com

To OTC Journal Members:

| | |
| --- | --- |
| | Trading Alert- eResearch Technology (NASDAQ: ERES) |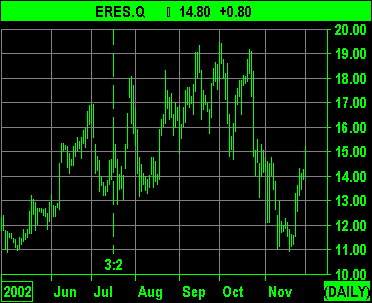 Rumors abound on Wall Street trading desks about eResearch Technologies. Traders are talking about a potential short squeeze. Recently upgraded to strong buy by both Raymond James and Roth Capital, the stock has come off a short term bottom of $11, and rebounded to about $15.
eResearch is a leading provider of centralized electrocardiograph collection and interpretation services, which includes managing clinical trials on behalf of client companies. Their customer base includes such high profile names as Johnson & Johnson, Pfizer, Aventis, Novartis, GlaxoSmithKline and 3M Pharmaceuticals.
The company has increased revenues for the first nine months of 2002 at a 45.5% clip, generating $29.4 million in revenues versus just $20.2 million for the same 2001 period. It has also reported net income of $3.2 million, or $0.29 per diluted share, versus a net loss of $100,000 or $0.01 per share for the same period in the prior year.
The company also announced it expects to post fourth quarter results of at least $11.1 million in revenue and $0.12 per share in diluted EPS. The company has exceeded its guidance every quarter this year. The company has said it expects to report at least $53 million in revenue and EPS of at least $0.62 in 2003.
According to the information found at the Yahoo! quote page, the reported short position on this stock is 50% of the public float, pegged at three million shares.
Trader buzz on this stock claims a powerful short squeeze is in the making, and many are expecting substantial fundamental developments coming out of the company this month.
Based on the company's fundamental performance combined with the rumors of the short squeeze, we believe this stock is definitely worth a trade and possibly a long term investment. Unfortunately, there are no options available on this stock, so you have to trade the common shares.
We would recommend the following:
Buy up to $16, and if the stock gaps open in the morning you might want to wait for a pullback.
Stop Loss- $14, or whatever percentage of your principal you are willing to risk based on your personal risk tolerance.
Target Price- $23 in December. Critical levels- a break through $16.50 would be very bullish. A break through $19.50 would make the $23 price target more realistic. If the stock challenges $19 for the fourth time this year, and cannot get through that level, it would probably be a good time to take your profits.
---
Quick Note- Before deciding if you want to participate, please read the OTC Journal's section on Trading Alerts found on the left hand menu bar of our home page. For a Track Record of former Trading Alerts, Click Here.

---

We inform you that one of our editors has purchased 500 shares in the open market at $15.70. Our editor can buy or sell shares in this stock at his own discretion. This should be viewed as a potential conflict of interest.

---
Charts Provided Courtesy Of TradePortal.com

---
The OTC Journal is a proud partner of the SwingWire.com Online Investment Community. A next generation Online Analyst Exchange providing Members the ability to search, review, track and monitor some of the Internet's best Online CAs (CyberAnalysts). Members have the opportunity to potentially achieve higher returns by viewing top performing portfolios and receiving real-time alerts from favorite CAs.

SwingWire.com also has a lucrative incentive model for experienced investors and traders who consistently outperform the market. Share market ideas with other like-minded investors, establish a proven track record, provide insightful commentary, attract followers and ultimately become one of the Internet's highest paid and most sought after CyberAnalysts!

Click here to receive your FREE 30-Day Trial Membership with no further obligation. Sign Up Today!