Home Page : www.otcjournal.com
Email Questions or Comments To:

[email protected]

To OTC Journal Members:

| | | |
| --- | --- | --- |
| | Comments in the BLOG | |

There haven't been any BLOG entries so far this week, but your comments and questions are welcome on the two most recent: DSEN and XNOM. I'll be posting a BLOG on BPTR tomorrow with some thoughts on March quarterly performance.
To use the BLOG, simply go to the home page at www.otcjournal.com - the BLOG will scroll down automatically on the right side of your screen. The most current journal entries appear in the middle of your screen. Check back frequently for updates particularly when stocks are moving to overbought or oversold levels or in volatile markets. Your questions and postings do not automatically appear, so don't bother posting the same question multiple times. I personally go through to moderate and respond to every question. If not for the filter, our BLOG would be filled with invitations to online poker sites- a total waste of the resource.
Here's three 30 day trading ideas for a long overdue bounce in the market.

| | |
| --- | --- |
| | Three Ideas For a Long Overdue Bounce |
The market has been taking a fairly severe beating in '05, and is probably due for a bounce in the not too distant future. It's too early to tell if the market's recent swoon is the beginning of a bear market, or simply a correction in an ongoing bull market, but a relief rally is definitely in the cards.
The biotech index is making a reasonably good showing, and will be one of the leaders in a long overdue bounce. Biotechs have been stealthily moving up the charts. One could argue biotechs are not effected by oil prices, consumer sensitive, or interest rate driven. Biotech breakthroughs lead to profits: plain and simple.
A chart of the Biotech index suggests it wants to stay above its .618 retracement level as measured from the August '04 low to the December '04 high. The index has twice tested that level recently and bounced convincingly both times. The current pullback poses an excellent entry point into today's ideas. Most of the trend and directional indicators have moved into positive territory, which suggests this move may only be the beginning. Since the overall market looks far worse than the biotech group, please adhere to the suggested stop losses.
Here's three ideas with tight stops for a little relief rally: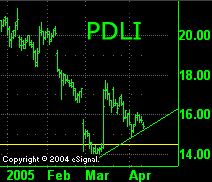 Protein Design Labs (Nasdaq: PDLI) had a huge one day move in March and has pulled back to a more attractive entry point at the .618 retracement level. We aren't showing it on this chart, but the .618 retracement level for this stock as measured from the big jump in March is $15.31. A stop at $14.49 gives it plenty of breathing room with a profit target of at least $17.25.
The stock has pulled back from the March high of $17.75, as is since setting up a pattern of higher lows and higher highs. As I write today's edition, the stock is trading at $15.59, down $.11 on a pretty ugly day.
Profit target over the next thirty day: $17.25 or better. Stop Loss: $14.49.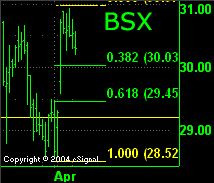 Boston Scientific (NYSE: BSX) has been battered for months, but delivered its first meaningful bounce in over a year last week when it arrived at the $28 level. It could very well have reversed its long-term downward trend, and now have tremendous upside potential in the coming months. Since its move last week, it has also pulled back and is poised for a nice entry level at current levels.
This stock might want to go back and fill its gap at $29.45 before heading higher. Therefore, a stop loss at 29.10 is recommended. Profit target on BSX is no less than the $34 area, but if you're looking for a great long-term position, BSX could yield some very nice returns. As I write today's edition, the stock is trading at $30.65, up $.10 on the day.
The infamous Imclone (NASDAQ: IMCL) of Martha Stewart and Sam Waschel fame is my third choice. This stock is the riskiest of the three, but might have the most upside potential.
The stock is currently in the process of trying to confirm a long-term directional change, much like the one BSX made last week. We've included a 3x3 displaced moving average in a small chart for reference. The importance of this is simple. The stock broke above the 3x3 on 4/5 and closed, yesterday it broke below it and closed, we'd like to see it break above and close one more time and hold within a .618 retracement of the move for a long trade confirmation. If it can stay above $33.99, it may be in for a big move.
The stock is currently trading at $35, up $.40 on a day when the markets are getting clobbered.
Profit Target on IMCL over the next 30 days: $39. Stop Loss: $33.99. I'm suggesting risking one point in this shaky market environment.
If these ideas work, the microcaps won't be far behind.
---