The Good Old USA - Home Of Risk Capital
Risk capital is the fuel of innovation, and innovation is something America has always had in abundant supply. No matter how the world changes, the US will always be the center of finance and innovation.
In 2011 venture capitalists invested $33.4 billion in the biotech sector- second only to the bubbicious year 2000.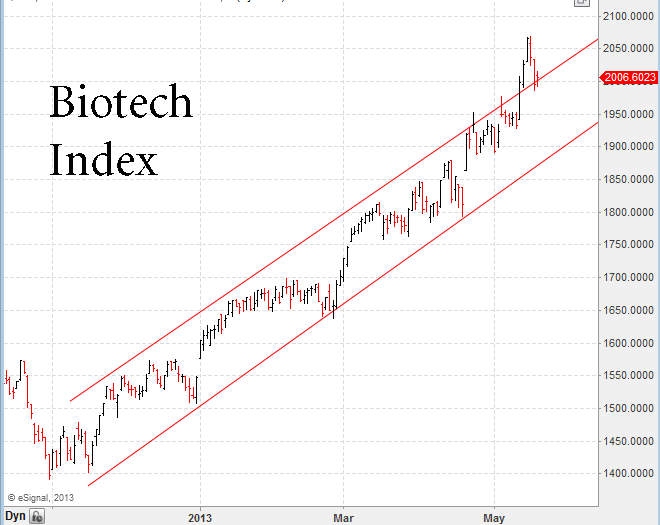 All that 2011 capital has been working for 2 years and starting to pay dividends. The Biotech Index (BTK) has been red hot since October of last year, and has consistently been a market leader.
As you can see from this chart, BTK was 1400 in November. Recently, this index made a new multi year high of 2050 for a whopping gain of 46% the last six months. This is the chart I had in yesterday's "Guess the Chart" edition.
Biotech stocks are the rage today, and I've been scouring the boards for an idea that's ready to join the biotech party.
I've found it. Today's new idea is an NYSE listed biotech company who has its sights set on developing revolutionary vaccines for heath issues that plague the globe.
Inovio Pharmaceuticals (NYSE: INO) has received over $50 million in grants from a variety of organizations that include the Gates Foundation (for their malaria vaccine development), the National Institute of Allergy and Infectious Disease, and the National Institute of Health.
Companies who are clever at raising capital are the ones who succeed. For your consideration......
Inovio (INO): Taking on The Worst And Most Underserved Global Diseases
INO is developing synthetic vaccines to prevent and treat some of our Planet's worst cancers and infectious diseases.
Here's a graphic that gives you their pipeline in a glance.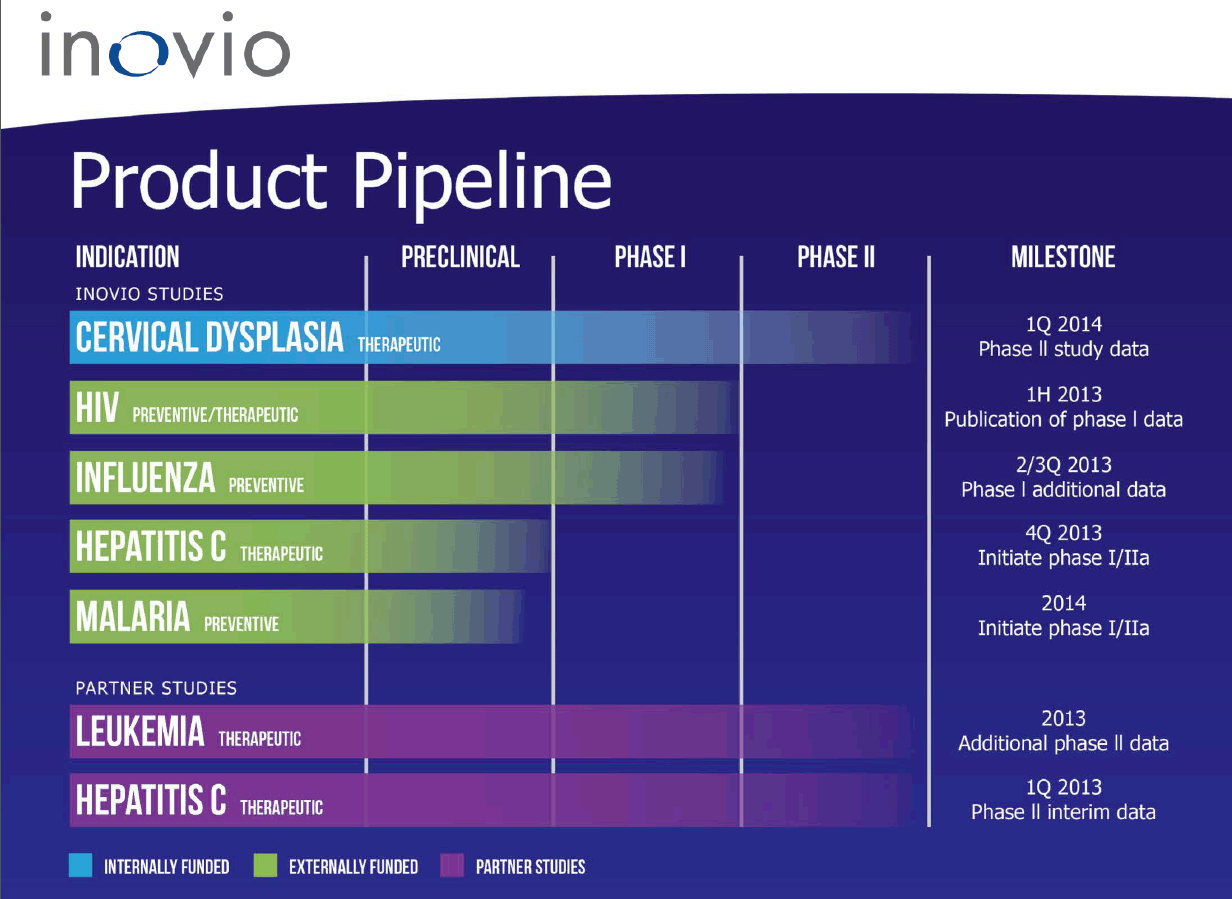 As you can see from this table, they are going after vaccines to treat Cervical Cancer, HIV, Influenza (the flu), Hepatitis C, and Malaria.
Clearly, the end game is an FDA Approval for one of these vaccines. That would make the company worth billions, and you would make the return of a lifetime from the present level.
However, it's not all or none in biotech. Biotech stocks tend to reflect the progress these companies make along the lengthy journey of bringing a new therapy to market.
INO's share price is likely to respond very favorably to positive clinical results as the company releases them.
Throughout the course of this year, we should see results from a Phase I trial of their Flu vaccine, a Phase I preventative HIV vaccine, and a Phase II trial of their leukemia vaccine.
Positive results from any or all of these trials, and the stock could go charging up the charts. With the possibilities, I like our chances of getting at least one big win.
INO's Special DNA
So, what's different about INO's technology?
INO is developing synthetic vaccines. Typical vaccines are derived from the weakened or dead versions of the disease, thereby helping your system develop immunity. INO's platform works differently.
This is pretty complex stuff, and I'll be the first to admit I don't fully understand it. However, here's an overview: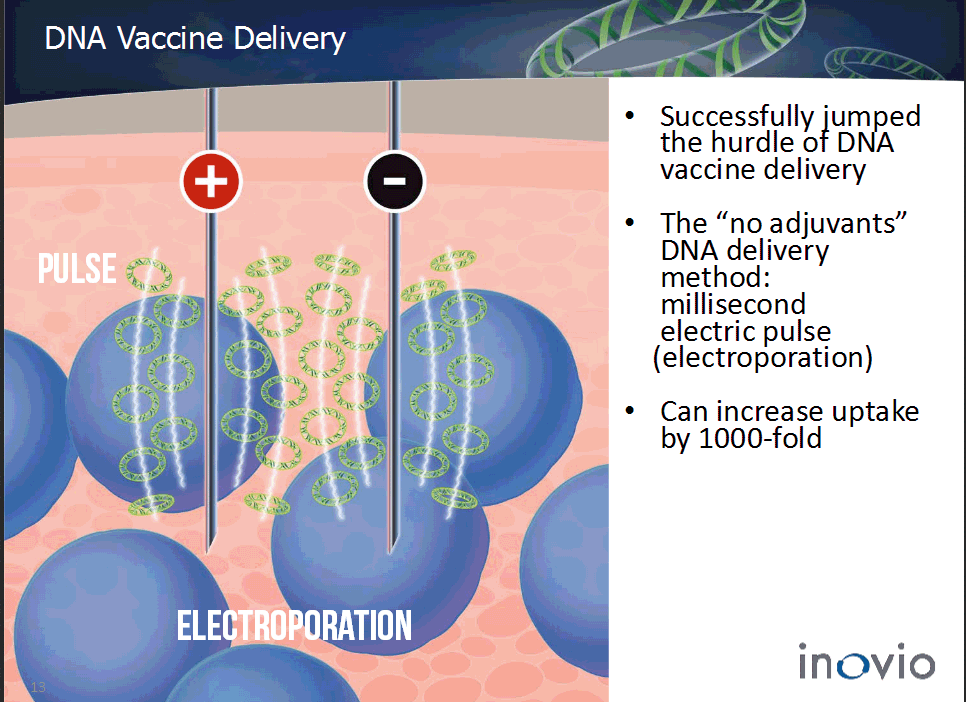 Their technology employs a unique combination of a proprietary electroportation device that creates an electrical current to target cell membranes. The vaccines are derived from a plasmic DNA fragment encoding a selected antigen and introduced in concert with the proprietary electrical platform.
The reviews I've read claim this technology works on all strains, including future mutated versions that are so problematic when the annual version of the Flu bug arrives, and last year's Flu shot is obsolete.
INO's technology allows for a blanket approach- the unique DNA platform assures their vaccines will be effective against current and future mutated versions of these diseases.
Early clinical data has been extremely positive, and the market will flock to this one as they move farther down the road with a flu vaccine.
Time is On Your Side
For you endangered species of investor who can see beyond a day or two and want to go for real returns over a longer period of time, this idea is tailor made for you.
At end of 2012, INO reported $13.6 million in cash and cash equivalents. Since then, INO raised another $15.1 million in a stock offering, and received an additional $3.5 million in a grant from the NIH (National Institute of Health).
INO is now armed with enough capital to last through 2014. That gives us a 19 month window for a major breakthrough before INO requires any additional funding.
Their progress is being reflected in the stock. Check out this chart. I've put a lot of good old fashioned technical stuff in here.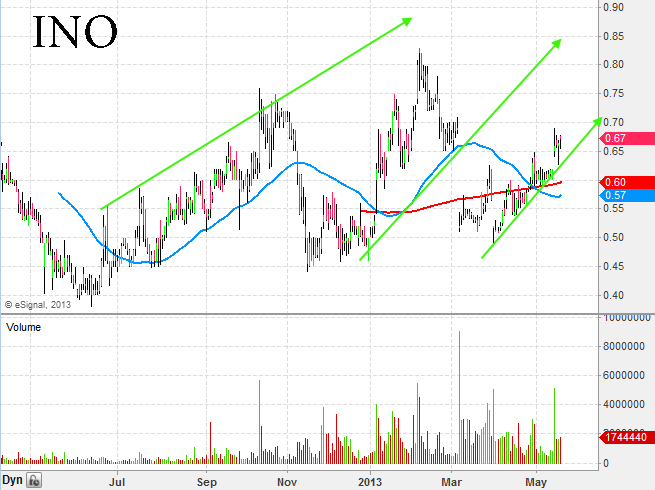 Let's start with the Moving Averages. The Red line you see is the 200 Day Moving Average. The stock is trading nicely above the 200DMA at $.60. Technicians consider this and indication the stock is in a long term up trend.
The Blue Line is the 50 Day Moving Average. The stock is above the 50 DMA of $.57 as well. Technicians believe this indicates the stock is in a short term up trend.
Also, note the action in the stock since the $.40 low last July. Each successive low has been getting higher. They've been $.40, $.45, and $.50- up 5 cents each time.
Each successive high has been getting higher as well. $.75 was followed by $.82- this current up trend should take the stock to $.90 or better.
The stock is volatile, but technically it looks very good right now for a short term move. However, you should be considering this idea for a long term gain.
Visualize the implications of the company that comes up with a Universal Flu Vaccine!! Not to mention going after Hepatitis, HIV, and Malaria.
So, if you want to consider this stock for a trade, set your target in the $.90 to $1.00 range.
However, if you can think longer term at the front end of this secular bull market for small stocks in a biotech frenzy, a couple of very positive clinical results could send this one into the $3 to $5 range or higher in the next 19 months. That's a 470% gain from current levels.
I like $.40 for an SSL (suggested stop loss). I don't see it going there unless we have another global market meltdown.
This is a great idea to go for long term capital gains at the reduced tax rate. Let's try to avoid giving your hard earned profits to the government.