Here's a reprint of yesterday's edition. Pre-open trading idea for this morning. There is one correction from yesterday's release. I stated DPHS traded 14 million shares on Friday. This was incorrect. I was looking at a weekly chart. DPHS traded 14 million shares over the course of last week, which was still very substantial volume.
In case you missed Sunday's edition:
The One That Got Away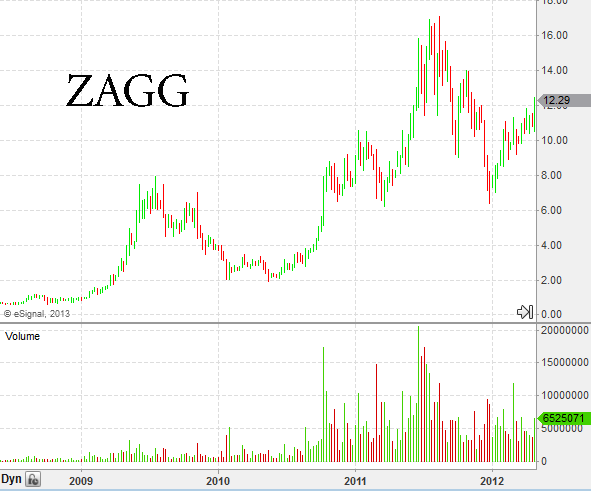 In 2009 I received a call from one of the smartest guys I know in the microcap world. Analyst Marc Robbins called and told me he had just visited the most exciting company he'd seen in many years.
Salt Lake City was headquarters to little known and under followed ZAGG Corp (NASDAQ: ZAGG). At the time, the stock was about $.65 and trading on the Bulletin Board.
The company had one product. It was a stick-on protective covering for smart phone screens. Rather than buy the stock, I ordered their protective covering online, and had some trouble putting it on and getting it to adhere properly to the screen of whatever phone I was using at the time- I believe it was one of the early iPhones.
That one got away- you can tell by the chart. In mid 2011 ZAGG peaked at $16 per share on NASDAQ, and I missed an opportunity to notch a 2360% return on my investment.
Shame on me.
As I was studying the 411 on Monday's trading alert, I was struck that ZAGG had a product many people would want for their smart phone. Today's idea could be Deja Vu ZAGG- ZAGG all over again.
I should have your attention- read on.........
Dephasium Corp (DPHS): Smart Phones and Safety
Mobile Phones give off Electromagnetic Waves- a form of radiation. The Waves given off by a cell phone range from 2 watts to 3.6 watts.
Over the past 15 years dozens of studies have been completed- some suggesting cell phones and the Electromagnetic Waves they give off are carcinogenic- another words- they cause cancer.
The most damaging study on this issue was released in 2007 by Dr. Lennart Hardell from Orebro University in Sweden. Hardell concluded:
Cell phone users had an increased risk of malignant gliomas.
Link between cell phone use and a higher rate of acoustic neuromas.
Tumors are more likely to occur on the side of the head that the cell handset is used.
One hour of cell phone use per day significantly increases tumor risk after ten years or more.
For many years, serial cell phone users have been complaining of burning and tingling sensations in the skin of the head and extremities, fatigue, sleep disturbances, dizziness, loss of mental attention, reaction times and memory retentiveness, headaches, malaise, tachycardia (heart palpitations), to disturbances of the digestive system.
The mobile phone industry will hotly debate these issues, and point to many studies suggesting the devices are perfectly safe.
However, people are always concerned about health hazards, and a simple solution to this problem could be a monster seller.
Enter Dephasium (DPHS): A "ZAGG" Like Solution

On June 3rd DPHS announced the acquisition of Dephasium LTD of the United Kingdom.
Dephasium LTD has developed and patented a product it believes protects consumers from 98% of the electromagnetic waves emitted by mobile phones. DPHS began its research on this technology in 2006.
The company has just launched an eCommerce web site and has begun taking orders.
The product is a patch that simply adheres to your phone. According to the site, the Patch Dephasium eliminates 67% to 98% of all electromagnetic wave emitted by your phone.
To visit the eCommerce site, simply click here. You will find its already functional in several languages.
I missed ZAGG at $.65 and 2360% on my money over 18 months on a very similar story.
DPHS is not widely followed yet. It's at the very beginning. There's a very brief trading history, but it did trade 14 million shares last week as investors starting to take a serious interest in this story.
The good news- the $.155 level it closed at on Friday is very close to the all time low, albeit it on a very short history. It was $.65 during the course of last week, so it's got to be close to the bottom.
Look for further substantial interest Today. In this case, I'm not too concerned about the stock trading down as the huge volume last week suggests everyone who might have wanted to sell early has done so.
My only concern would be paying too much on an opening trade today if the stock gaps up. About $.18 to $.19 is the most I would suggest for a trade. SSL set about 20% below your entry level for this short term trading idea.
Upside unlimited in my view. Looking at Friday's volume of 14 million shares, it would appear enormous interest is surfacing, and I believe we have a chance at being on the front end of a major surge.