Today, just prior to the market's open, China Energy Recovery made an annoucement which opens a whole new line of interest as it relates to their business- it also helps explain their 110% annual growth rate the last two years running, and headed that way this year.
CGYV announced the following about one of the 2005 installations- the Two Lions sulfuric acid plant- the largest sulfuric acid plant in China.
It seems Two Lions has such a perfect environmental footprint that it has been awarded Carbon Credits which will equate to more than $2.5 million in extra annual revenues.
So, this leads to the inevitable question- What the Heck is a Carbon Credit?
Carbon Credits were established in the Kyoto Accord- a world wide doctrine signed by 179 countries which sets standards for carbon emissions. Under the Accord, emerging nations are allowed a certain quantity of carbon emissions. The concept is designed to mitigate the climatic changes from global warming.
The United States, under the Bush Administration, has refused to sign the Kyoto Accord, a move that has angered many friendly nations around the world.
All other major nations, including all of Europe, has signed the Kyoto Accord and adheres to its standards.
Under the Accord, emerging nations are allowed a limited carbon footprint. Within their respective countries, there may be industries that generate a positive carbon footprint, and others with a negative carbon foot print.
The industries with a negative carbon footprint must buy carbon credits through an exchange to equate to zero carbon. Manufacturers with a strong carbon signature can generate carbon credits that can be sold for cash.
According to the release, Two Lions is so fuel efficient it is generating carbon credits that will yield more than $2.5 million in cash payments annually. Moreover, as a result of the CGYV installation, Two Lions is burning 120,000 less tons of coal than it would without CGYV's technology. That's a lot of smoke in the air.
These carbon credits add a whole new dimension to the attractiveness of their technology. It's another way for the installer to get a return on investment.
Yesterday was a very interesting day for the stock. I cautioned investors in an early BLOG the stock was trading poorly, and it might pay to wait for stabilization if you wanted to pick up some shares.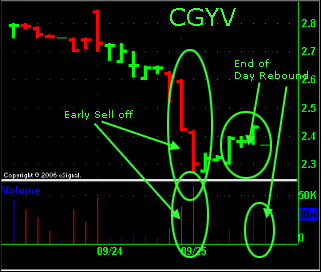 The stock was pretty much in a free fall yesterday until about mid day. This is an hourly chart from yesterday- each bar represents one hour of trading. Note the big down bars in the early sell off, associated with high volume.
At the end of the day, the stock turns rather abruptly up to finish much better on a nice volume surge.
As I suggested in yesterday's BLOG, I suspect a couple of the funds who invested in the stock are dumping rather aggressively for reasons unrelated to the company. That's just an educated guess.
They may have simply run out of supply, as the stock has traded pretty darn good volume for the past two weeks.
I'm not prepared to trust it yet. It will be interesting to see how it opens today and trades throughout the remainder of the session. I'd really like to see a couple of quiet days with very little pressure on the stock to be convinced the excess supplies have been absorbed.
For more information on Carbon Credits, Click Here. To read today's press release, Click Here.
Comments and questions are welcome.