I thought it would be useful to look at a chart in the action of US Energy today, as the stock is enjoying a strong week of renewed interest as demostrated by the volume.
Last week USEI only traded above 100,000 one day during a five trading day week. So far this week here are your volume totals: Monday- 84,000; Tuesday- 232,000; Wednesday- 863,000; Thursday (11:00 Pacific)- 441,000. As you can see, based on these volume numbers interest is return to the stock as it climbs from an absurdly oversold level.
Yesterday $.24 was big resistance. There seemed to be an unlimited supply coming from two market makers.
In checking with the insider trading tables, it became evident where the likely supply was coming from. Back in June two different entities filed to sell about 1 million shares. I spoke directly to the CEO and learned that both parties were shareholders going back over three years ago- long before his involvement. Neither are true "insiders"- just outside investors who have nothing to do with management.
If those filings were the source of the selling, my guess is the last couple of days volume cleaned them out, and the stock could now be positioned to make another move up.
Here's a look at the chart: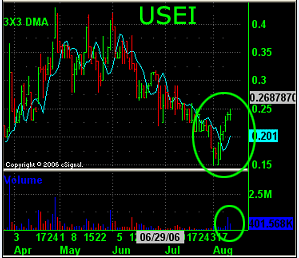 Although it is not easy to see as I have put up a multi month chart, I circled the recent surge in volume on the lower right. As you can see from the price movement on top, the stock has kind of stalled at the $.24 to $.25 level.
However, it appears to me that the sellers are about exhausted, and we could see the next leg up if the volume holds up for a few days more. If it doesn't, the stock is likely to pull back a penny or two. We will see.
Regardless, I believe there will be more fundamental developments coming down the pike which could fuel higher levels. Clearly, the worst of the summer sell off is behind on this one, and the company is earning shareholder loyalty with performance.
Comments and questions are welcome.