TTGLE is up big today on the heels of Friday's triple header news releases, which for the most part bode well for shareholders.
If you have been following my suggestion of waiting for positive events to either fully or partially exit your position, today might be a good day to do so.
Big, spiky rises like today's generally result in some sort of pullback or retraction before higher levels can be attained.
On the plus side, the technical picture could get interesting. If they have the cash, they just might buy back enough shares to make the stock extremely tight and volatile. If that becomes the case, it could trade with dramatic swings in either direction.
Here's your chart: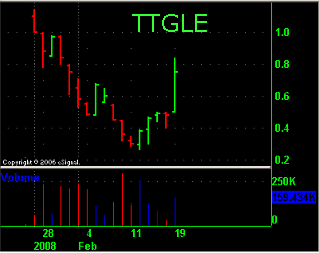 Nice rebound for those who had patience. Will probably quiet down from here. Long term, still way to early to call. Their plan to move forward seems reasonable on paper.
More to learn in today's conference call.
Comments and questions are welcome.