Thanks to the big two week sell off in the market and the extraordinary run up in the stock, SPKL is behaving pretty much as predicted. Here's what's happening. Those same investors who bought the stock because it was going up without really looking at the company, are the same investors who are now selling it because it is going down.
If you took my advice and made either a complete or partial sale when the stock was up in the stratosphere, you should be getting excited about buying once we hit a bottom, which is rapidly approaching.
Here's a look at the chart: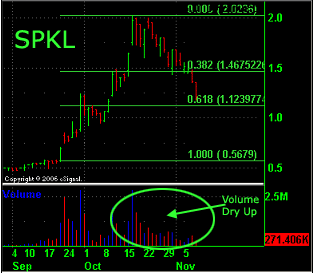 As you can see, the 61.8% retracement for this stock is $1.13. That should prove to be a fairly low risk entry level. That's not to say the stay might not go a bit lower, but your downside should be pretty minimal at that level. Today, we are trying to get down through $1.20, so we are very close.
Here's what I find very noteworthy- as the stock continues lower everyday, the volume is also dropping quite significantly. This low volume sell off is just the kind of pattern that leads to a quick turn back up when conditions right themselves.
I wouldn't mind seeing the stock trade sideways for a couple of days, but in here it could simply turn back around in a hurry.
It's time to start looking to be a buyer. Personally, I couldn't be more excited. I would like every OTC Journal subscriber to own lots of this stock. The last time I suggested it was a buy, the stock was $.90. We are very close now, if not there already. Sometimes, a little patience pays off.