We've been lucky. For those of you who didn't catch it, the Pickle got a little national recognition on Monday morning via the Today Show.
A segment entitled "Investing 101 For Women" featured a young woman's adventures in the investing world. After taking some money out of a 410k, buying a house, selling a house for a profit, and investing in the stock market, here last move is to invest in a restaurant chain- and- they flash a picture of a Spicy Pickle restaurant. Awesome. Here's a link to the video clip:
http://video.msn.com/?mkt=en-us&brand=msnbc&fg=rss&vid=148d5e1e-5b80-4e7f-86f8-212a04f4bb3f&from=05

At this point I believe the stock is going up because it is going up, and I also believe it is overvalued at this level. I have been a seller, and will continue to be at this lofty valuation.
I believe this company will have a breakout year in 2008, and the stock could go higher than where it is today. I'll have a look at the chart when it cools off. For now, I believe you should be taking some or all of your money off the table, and waiting for the stock to cool off.
Here's the chart: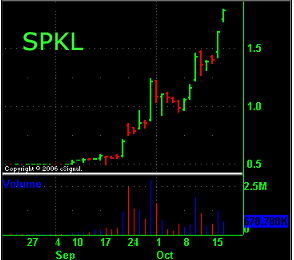 Simply streaking. And I thought it was more of a sell at $1.30. People call me all day long and tell me they are not worried about the price- they like the growth potential and love the food.
The momentum is fun, but it will head the other way when the investors who are buying the stock because it is going up decide to sell it because it is going down. Don't get caught holding the burning match when it burns down to your fingers.
Comments and questions are welcome.