NWKI sold off fairly viciously mid day yesterday. It was a very bizarre day. It was as if all the market makers decided to shake the weak hands out of all small and microcap stocks. I saw a lot of selling at about mid day across the board on stocks ranging from $2 to about $10- one position I have in the $6 range was trading very nicely – up about $.25 on the day, and it just collapsed. With the market in a mini rally mode after a tough January, it seemed like it was a giant effort to force small  stocks down so shorts could cover. I don't know how or if the big market makers do it in mass, but it sure seems like it happens every now and then.
At any rate, NWKI is bouncing nicely in this morning's action. It gapped from $1.95 to about $2.02, and there is a chance it might come back and fill that gap. The $1.95 level will probably become the new support level. Volume levels remain much higher than in the past.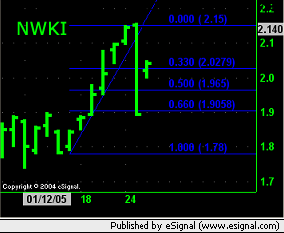 In last night's edition I put up a long term chart, demonstrating that the uptrend which began in August has not been violated. Until it is, you must assume the stock is more likely to continue up rather than reverse course down. There will of course be bumps along the way like yesterday.
Here is a much shorter term look at the stock. This shows the stock from the rally which began about eight days ago. In this case, the stock cracked the uptrend line pretty dramatically, reversing the very short term trend. Once violated convincingly, you then look at retracement levels to pick a good entry if the longer term trend hasn't changed. This stock put in a full 66% retracement before rebounding. I like about a 50% retracement as a low risk entry point.  $1.965  would have been the number. We are now at $2.03. Look for $1.95 to become the new support level, and about $2.15 to be resistance. It could trade in this range, or it could break out as sellers become exhausted. A drop below about $1.85 would be very bearish.
All this technical mumbo jumbo has to be taken against a backdrop of a company that could triple or quadruple in size this year. Longer term in a decent year for the market this stock should do well.