It is 20 minutes after the market opened. NWKI has already traded 130,000 shares. If the stock continues to trade at this pace for the remainder of the day, we will have the highest volume day in the stock's history.
Despite the enormous volume on the heals of Friday's news on their latest acquisition, the stock has not gapped up too dramatically. News like this in other situations has led to a big gap at the open, which inevitably leads to a pullback.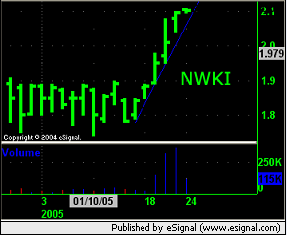 The uptrend that kicked off about a week ago continues. There is no gap on the chart the stock will have to come back and fill. Therefore, since the stock continues to work it's way slowly higher with no violent breakaway move to the upside, I feel the you can continue to establish or accumulate without a high probability pullback in the next few days. Had the stock opened in the $2.30 range,  I would be cautioning investors to wait. This was not the case. This one is on a nice steady roll. Good time to get on board.