I published a brief Blog yesterday so everyone would know I jumped into CREE as it finally fell below the $30 level I've been patiently waiting for.
I fully expect CREE to be a $50 stock in the not too distant future- perhaps within a year or even less. The LED bulb is going to slowly buy surely replace the incandescent bulb over the coming years as 1. Energy costs go up 2. LED prices come down and 3. Regulatory pressure to discontinue the use of LEDs increases. It has already happened in Europe- Asia is jumping on the bandwagon- the US will follow in kind.
Yesterday, I acquired 2,000 shares in the $28.60 range, and watched the stock rebound. Here's the chart I as looking at: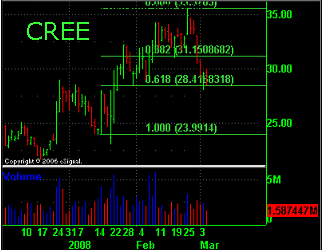 As you can see, the 61.8% retracement of the most recent move took us down to $28.40. It rebounded rather quickly, so I was able to buy at about $28.60.
The stock may want to go lower, in which case I will be prepared to pick up a little more, perhaps using options. Here's the chart I will be looking at if it works much lower: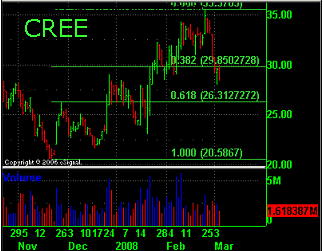 This chart measures the stock off the November low, which is actually the more powerful chart.
This chart shows the 61.8% retracement at $26.31. If the stock trades down to that level, I will really load up with a tight stop of around $25.
Today's level as I write this is $28.80- the stock has come back down from yesterday's late climb, but not all the way to where I own it. However, I believe it is still a good level to jump in. Your choice.
Comments and questions are welcome.