Nighthawk was out with some reassuring news pre open today, and I am starting to become more optimistic on the situation.
CEO Doug Saathoff was very quiet over the course of the summer, but of late has started communicating with shareholders again.
Today, he was out with commentary stating their legacy business would hit a new all time high this year and order flow was reasonably robust.
In a letter to shareholders, he stated he would update everyone on the status relative to the set top boxes in the near future.
It's quite refreshing to see the company open up a little after all these months of silence.
I'm now pretty comfortable in assuming their business has not eroded much in the teeth of this recession, and a little positive news on the set top boxes might just get the stock rolling again.
I'm looking forward to his commentary on the set top box business.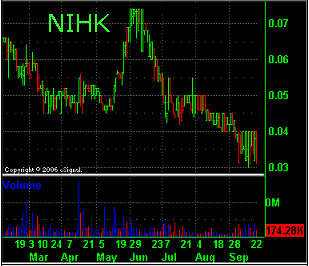 Meanwhile, as you can see from the chart, the stock remains embroiled in a dismal malaise. I don't expect this microcap stock to start trading as well as their larger cap bretheren in the short term. It's going to take a bit of time to see retain investors back in the market buyind small stocks.
Eventually, volume and liquidity will come back, and some of these kinds of stocks will start performing quite a bit better.
NIHK might be a good candidate for a rebound later in 2008 and into 2009.
I'm looking forward to further updates from the company.