For those of you who have been following NWKI, the company was out with news today of a major order from a chain of Footlocker stores in So. Cal.
The stock has been behaving very well over the last few days, and I believe will continue to behave well.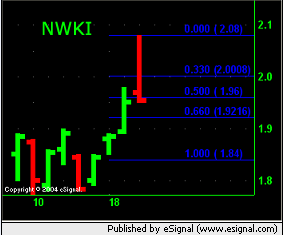 IF you are looking to jump into this stock, but are concerned it has run up too fast – it hit a high of $2.07 today- here's a chart. I like to buy moving stocks on slight pullbacks. I look for a 50% retracement, otherwise known as a Fibronacci Retracement, as a low risk entry point. As you can see from the chart, a 50% retracement of the last two days action would suggest $1.96 as a good level to get in.