Apple- to buy, or not to buy on this big sell off- that is the $billion question out in front of us right now, and I've been thinking about it all morning.
Here's why AAPL has gotten crushed in the last week- it's a consumer stock, and Wall Street has decided after being continuously wrong for the last five years about the death of the consumer, the consumer is finally dead.
My personal unscientific survey does not agree. I have gone to a couple of malls of late and canvassed a few of my friends- the only ones curtailing spending were those associated with the residential building market- they are in a full blown recession bordering on depression- it will be tough sledding for some time. The malls I've been to lately have been jammed.
However, Wall Street feels that with oil prices rocketing, consumers overleveraged on their homes, and savings rates low (that's a whole other issue- in my view, US consumers do not use savings account for savings- they put money in homes, 401ks, etc to create wealth. Not figured in the US Govt's savings stats), the US consumer, who represents 82% of GDP, is dead. Hence, APPL isn't going to sell as many iPods, iPhones, and Macs as previously thought.
So, is this a buying opportunity in a stock that has been extremely good to OTC Journal subscribers, or an ongoing problem?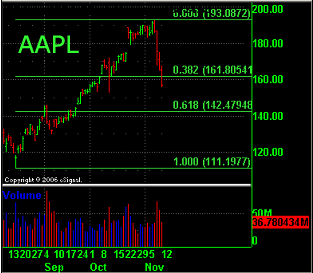 Here's a chart of the big fall move in the stock- if you had jumped in when I did, you participated in a big way.
As you can see, the $161 level was the .382% retracement, which should be a good level to jump in.
This is just a seat of the pants analysis, but I believe there are a lot of investors who have lost a lot of money betting against the US consumer.
I am still holding my Jan 130′s calls I paid about $12 for. I just jumped into 10 Jan 155 calls at $16.60, which is probably way to much to pay for those options. If the stock trades back up, those options will probably move about $.50 for every $1 the stock moves.
Today's 5 point drop below the 38.2% retracement level is a little troubling, but these numbers are not exact- they are ranges. If the stock trades down to $150, I'll probably take my loss and sell. If not, I'll hang in there for some positive news. Techs are getting hit a bit today as money is starting to roll back into the oversold financial sector.
This will allow me to hold those options to and through the Holiday season, which I suspect will be great for AAPL.
Pretty risky with all the negative press, but the sell off is no doubt being fueled by hedge fund managers desperate to make sure their gains are logged before the stock really hurts them. Remember, these guys live month to month, and their mantra is "don't lose money".
I'm jumping in, realizing I'm taking a bit of risk. Comments and questions are welcome. I might add to the position if the stock starts showing signs a health.