HYPD is selling off inexplicably today along with a number of other small and microcap stocks. There really isn't a lot of volume associated with the sell off.  I am guessing a number of trader types had a $3 mental stop loss.  When the stock traded below that level, it just sold off.
Problem or opportunity?  There are a couple of interesting dynamics in the chart.  First, here's a very long term look at the stock: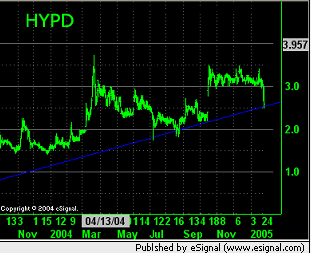 The trend line you see actually goes all the way back to the mid summer of '03.  That's an 18 month trendline, and the stock has not broken below it.  Long term, this appears to be an excellent buying opportunity.
Here's a more midterm look at the stock, going back to the big gap in October: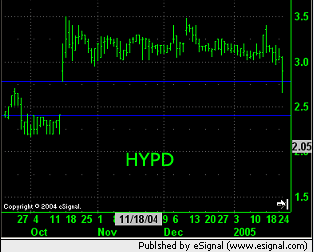 Note the gap that was created back in October when the company announced it the results from it's core drilling program off he coast of West Africa. The gap is depicted between the two horizontal blue lines.
That gap has been acting like a vacuum, trying to suck the stock price back in. After four months the stock appears to finally be coming back and "filling the gap".
Most of the time, once the gap is filled, the stock turns around and heads back up.
MarketByte LLC, the parent company of the OTC Journal has been holding a position in HYPD for the long term. From time to time we have sold some to cover our costs, but have maintained a core position. We are keeping our fingers crossed for a deal with a major developer just like you are.
Today, we bought 10,000 shares for  the corporate account at $2.60, bringing our total current position to 38,280 shares. Just because I bought it doesn't mean it can't continue to go down quite easily. I just felt it was a good opportunity to buy some back that had been sold at higher levels.  I might buy or sell this stock at any time at my discretion.
To my knowledge, nothing has changed but the price.
I believe it is going to fill last October's gap, trade sideways for a while and head back up. We'll see what happens.