I am posting this BLOG at about 9AM Pacific, Thursday morning. The chart below is hinting at some signs of life for EFSF. By the time you read this, I'm sure it will be later, so I don't know how the chart will look then.
Here's the chart: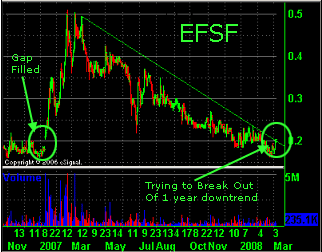 As you can see, the stock hasn't been much fun to own for the past year. However, the chart is showing signs of life. The Gap at $.18 from early 2007 has been filled, which is a technical positive, and the stock is trying to break out above a very long term downtrend line.
While the technical picture is finally improving slightly, the real purpose of today's BLOG is to give you the opportunity to comment on the interview with the Tim O'Leary, the CEO of Respond2.
Here's what I'd like to know. 1. Did you find the commentary valuable? 2. Do you feel Respond2 is the answer to the sales side of the equation for this company?, and 3. Has hearing the interview changed your viewpoint on the future of EFSF.
Of course, comments and questions on any other EFSF related issues are welcome. Remember, you comment won't appear until I respond and post it to the site. Check back the next day.