eFoodSafety finally got their annual 10K filing in late today, and everything is pretty darn ship shape on a go forward basis.
This financial statement is already nearly 3 1/2 months back, so it's already kind of old news. When you read a 10k, you are looking for negatives the company might not disclose in a public forum. In short, I simply couldn't really find any.
If you want to look at one minor negative- the number of shares I&O is climbing as the company uses stock to pay for a lot of stuff, raise capital, and reduce debt. As of July 9, there were about 164 million I&O.
On the plus side, the balance sheet is in absolutely great shape for a company in its development stage. They have no long term debt, and had about $1.1 million in cash at the end of April. Restricted shares were sold at $.25, which I believe is a very fair number for shareholders, to raise capital. Debt related to acquisitions was converted to shares at a number above the prevailing market- also more than fair to shareholders.
Revenues, primarily from sales of Cinnergen, climbed to $1.1 million for the year- double the previous year. This suggest a fairly robust Q4 as opposed to Q3 when they were just starting to sell Cinnergen.
All in all, for a development stage company with several commercial roll outs in the pipeline, they are positioned very well. Now, they just need to execute. PurEffect- here we come.
Here's a look at the chart: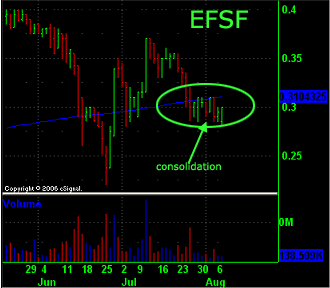 The stock has been going through a little consolidation phase, which I believe is a very bullish sign considering the drubbing the market has taken of late.
In short, this stock is poised to run up. I think it's highly unlikely the stock will go down on the 10k- there really isn't anything in it to spook investors.
I've included the 200 day moving average, which some avid followers of this stock tell me is the key swing point. A stock trading above its 200 day moving average is considered in a long term uptrend. The 200 day MA on EFSF is about $.31.
A little volume surge to the positive and off we go if they are right. Right or not, I believe this one could be setting up for a great second half of the year.
As usual, comments and questions are welcome.