eFood's quarterly numbers came out yesterday, and I had a chance to review the 10Q filing this morning.
The company didn't mention the revenue number in its press release, which I believe was simply absurd. Instead, it focused on the achievement of generating $5,400 in cash flow profits- which is certainly a step in the right direction.
Here's how they arrive at that number- they take the loss of $500k, subtract off the loss the $505k in non cash expenses they booked, and come up with $5.4k more in cash than when they started the quarter.
Here's what they didn't bother to cover in the press release- revenues- revenues went from $321k this quarter in '07 to $292k this quarter in '08- a 10% drop in revenues.
So, where do all these non cash expenses come from, and how do they pay for them? Here's where I was very pleasantly surprised-consulting expenses $552k- based on history, one would expect the company was handing out many millions of shares to whomever they pay to generate that expense. Not the case.
In fact, the number of shares I&O was 193 million- the shares I&O at the end of the last quarter- 192 million shares. This represents about .005% dliution- one half of one percent.
Therefore, over the past 3 months there was nearly zero dillution- that's the first time this has happened in many quarters.
At the end of the quarter, the company still had about $1.76 million in cash and cash equivalents. Pretty darn good in light of the revenue number.
I must admit, I was very pleasantly surprised to see the number of shares I&O remain static.  This bodes very well for the possibility of price appreciation when buyers come back to the market. They must have a big expense related to shares issuance that they are amortizing over a longer period of time.
From here on the big issue is revenues- can they drive increasing revenues from either their DR campaign, which has been revamped- or the wild card of PurEffect finally going to market in a major way?
I know many of you like to see a chart- and here it is: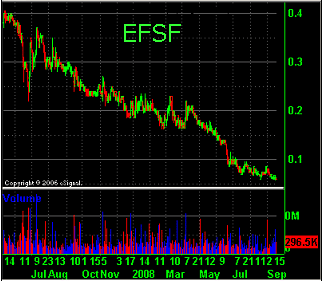 Here's a look at the last year of price performance. As you can see, it's a mess, and trading at new all time lows.
For those of you who have chosen to hang in there, the company is still around, and still has a shot at getting that top line moving. They simply have to execute.
Just to clarify- I am not suggesting you need to buy the stock today. If you are still holding the stock, you are far from dead. The company is managing its cash very well. I would suggest buying the stock when that top line gets moving to the upside.
Stay tuned for more in this adventure.
Comments and questions are welcome.