American Water Star was out with news today that Wal Mart has begun ordering the Hawaiin Tropic line of beverages once again.
While this is certainly welcome news and the stock is bouncing a little, this is not the kind of news the market is looking for to get the stock moving again.
CEO Mohlman has projected AMW will achieve $80 to $100 million in sales in '05. Only about 15% of the sales were expected to come from their branded beverages.
The market is really looking for some hard information concerning where the $80 million in revenues will come from.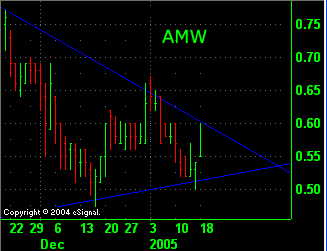 In the meantime, the stock is forming a wedge wherin the lows and getting higher and the highs are getting lower. A break to either the upside or the downside is the inevitable conclusion to a chart that looks like this. The longer it extends, the more volatile the break.
I believe it could break to the upside if AMW were to provide some concrete evidence of order flow to the market. Based on today's reaction, news of orders for branded product from WalMart is not going to do it.