Home Page : www.otcjournal.com
Email Questions or Comments To: editor@otcjournal.com

To OTC Journal Members:

| | |
| --- | --- |
| | Universal Capital (OTC BB: UCMT): Steps Up To the Plate- Again |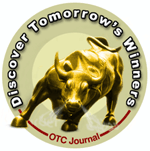 Let's face it, out of the gates Universal Cap has been the first new idea to strike out in a number of months. Perhaps we are getting spoiled- after all, the OTC Journal was on a tear for a number of months: We had the 9 month rocket with CPNE, followed in September by PNWIF at $1.80 (now $4.40), TTGL at $1.80 (now $2.20), and EFSF at $.20 (now $.38). They all traded very well in pretty short order. The only loser over that time frame was TTNUF.
Now, along comes UCMT at $1.55- I introduce the idea, it trades to $1.80, and then falls back all the way to $1.20 in the first two weeks. Clearly, not what we have become used to.
However, it's only the first innning in a nine inning game, and all that's happened is UCMT struck out in its first plate appearance. One for three gets you $10 million a year in baseball.
I continue to believe this is a great long term investment for microcap lovers- when microcaps get hot you have a diversified, agressively managed portfolio and a managment team that is adding assets hand over fist. Their NAV has grown quite dramatically over the past year, and the stock remains very undervalued relative to the only comps out there in the marketplace: specifically Harris & Harris (NASDAQ: TINY) and Utek (AMEX: UTK).
Despite having a rough start over the first two weeks, UCMT delivered the kind of news post close on Friday that could get this stock on many more investor radar screens.
UCMT announced it has acquired another company to add to its portfolio, and this one will be going public. Free trading shares of this new acquisition will eventually be awarded in dividend form to shareholders of UCMT. I believe it is a tax free dividend.
UCMT announced it added SP&S (Scientific Products and Systems) to its portfolio of companies at the end of April. UCMT plans to do an IPO spin out of SP&S as soon as feasible. Part of UCMT's portfolio shares will be spun out to shareholders of UCMT. Hopefully, you are, or will be, one of them.
SP&S has specially patented drug dispensing technology. It's used where precision is required in the dental and medical fields. The technology has been FDA validated for dispensing cancer drug and live virus products. It also has widespread applications in the dental market.
I am not in a position to evaluate the merits of SP&S, but I know UCMT has gone through the company with a fine tooth comb, and feels there is substantial upside for shareholders. UCMT only needs huge wins on a couple of these to have a surging stock. When SP&S gets added to the portfolio, the NAV goes up, as do sales and earnings.
Here's a pretty busy chart of UCMT. As I observed in the original presentation, this is not a well known stock, and therefore doesn't trade a lot of volume; yet. As the company grows, so should the audience.
On the left side of the chart is the big gap from the first day I covered it. It was all downhill from the opening print at $1.80 until just a couple of days ago.
There are only 5 million shares I&O, and really only about 1 million of those are publicly traded. The majority of those million shares are held by long term investors, leading to a miniscule effective float for this stock.
In the nine months this stock has traded, there has never been any volume, so when it started to trade a little there were a few sellers who had never had an exit strategy. Isn't it always the same- you invest, wait, wait, wait, and wait. Then, as soon as you finally throw in the towel and sell, the stock turns around and rockets. It's an unwritten rule of investing.
So, the sellers got out. How do we know they are out? look at the stock's behavior over the past couple of days- it moved from $1.20 to $1.50 on almost no volume. It only took about 15,000 shares to move the stock about $.30.
Watch this one run up the flag pole on Monday as the news of another portfolio client gets out, and investors notice the easy rebound in the stock. This one will continue to be volatile and make big moves on very little volume.
I still believe it is going to $2.25 in pretty short order. The initial cancer has been cut out, and the patient appears to be getting healthy quite rapidly.
The first at bat was a strike out, but it's now the third inning and there's another chance for a home run. Participate on Monday if you're not in already.
Here is the complete text of Friday's news for your review:

Press Release Source: Universal Capital Management, Inc.

Universal Capital Management, Inc. Announces the Addition of SP&S (Scientific Products & Systems, Inc. to Its Portfolio of Companies)

Friday May 11, 4:01 pm ET

WILMINGTON, Del., May 11 /PRNewswire-FirstCall/ -- Universal Capital Management, Inc. (OTC Bulletin Board: UCMT.OB - News), a Business Development Company which provides emerging growth companies with management and strategic resources for successful growth, announced today that it has added SP&S (Scientific Products & Systems, Inc.), to its collection of portfolio companies. The actual transaction occurred on April 27th 2007.

Universal is planning to do an IPO and dividend spinout to all of UCMT's shareholders at the appropriate time pursuant to a fully registered offering of SP&S common stock and or rights offering. Universal is planning to use this combination of an IPO and dividend spinout for its private portfolio companies when they are ready to enter the public marketplace.

SP&S (Scientific Products & Systems, Inc.) offers its OnePump technology to pharmaceutical, bioscience, dental and other markets for precision liquid dispensing. SP&S believes this patented technology provides its customers the world's most accurate dispensing platform. SP&S has filed over 15 patents with three patents having been issued on its core technology. Currently, for example, the dispensing systems have been FDA validated for dispensing injectable cancer drugs. OnePump systems also are used to dispense live virus and dental syringe products. The OnePump products are being used in worldwide markets in the United States, Canada, Spain and in China. The company has been requested by its customers to provide more than the precision pump portion of the solution, so it has developed a OneBloc processing platform of equipment for its markets. The OneBloc system was jointly developed with Hengsin MA, China, and was introduced at the New York Interphex show.

"We are very excited with having SP&S join our portfolio of companies. We anticipate SP&S to be a world leader of reasonably priced pharmaceutical processing systems based on its intellectual property and the association with HengSin MA," said Joseph Drennan Vice President of Universal Capital Management.

Forward-Looking Statements:

The information contained in this press release may contain "forward- looking statements." You can identify these statements by use of the words "may," "will," "should," "plans," "explores," "expects," "anticipates," "continue," "estimate," "project," "intend," "believe," and similar expressions. Forward-looking statements involve risks and uncertainties that could cause actual results to differ materially from those projected or anticipated. These risks and uncertainties include, but are not limited to the following which could affect Universal Capital Management, Inc. or one or more portfolio companies: general economic and business conditions, effects of continued geopolitical unrest, competition, changes in technology and methods of marketing, delays in completing various engineering and manufacturing programs, changes in customer order patterns, changes in product mix, continued success in technological advances and delivering technological innovations, shortages in components, production delays due to performance quality issues with outsourced components, and various other factors beyond the Company's control.


Source: Universal Capital Management, Inc.