Home Page : www.otcjournal.com
Email Questions or Comments To: editor@otcjournal.com

To OTC Journal Members:

| | |
| --- | --- |
| | RSS Feeds: A Great Solution In A Filtered World |
Emailing has become a bit fickle over the last couple of years. Spamming rather crude sales pitches for everything from Viagra to $50 million free money from Nigeria, to identity theft still jams our inboxes.
There are filters everywhere to catch offending correspondence- your own computer's email software probably has one, your company's IT guy has probably installed one for the workplace, and the ISPs have their own indecipherable filtering.
A lot of the nasty stuff gets filtered out, but a lot of mail you want to see gets filtered out as well. I am constantly finding correspondence from associates in my SPAM filter.
If you want to receive the OTC Journal more efficiently, there are several ways to insure prompt receipt. Here's the irony- if you are reading this, you are probably getting my publication on cue. However, let's look at some of the choices anyway.
First, there's "White Listing" the OTC Journal. The ability to White List depends on the email software you use, and the filtering technology you might have as well. For instructions on White Listing the newsletter, simply click on the following link: http://www.otcjournal.com/whitelist/, and you will be taken to an instruction page.
There's is an even better alternative which has been around for a while, and is becoming more and more popular. You can get the OTC Journal editions and BLOGS by directing the content wherever you want to see it using an RSS Feed.
RSS is an acronym for Really Simple Syndication. The simplified explanation: Whenever content is published at a place you want to view it, you can instruct either your email software or your browser to reach out on to the internet, grab it, and bring it to you. No email required, and only what you want to see.
It works really well if you use a Yahoo! home page, Microsoft Outlook to receive your emails, or Internet Explorer. Yahoo! is the easiest. Simply go to the home page at www.OTCJOURNAL.com, and click on the Yahoo! RSS Feeds at the top of the RSS box- which is a the bottom of the left hand menu bar. Just click to add the newsletter and the BLOG, and the content will automatically appear on your Yahoo! home page shortly after it is published. At your Yahoo! home page, you can click on the Change Layout button, and move it wherever you want on the page.
Internet Explorer and Outlook are a little trickier. For Outlook 2007- I don't know if it works on previous versions- start at the OTC Journal Home Page at the bottom of the left hand menu bar where you find the RSS Feeds. Right click on OTCJ Newsletter RSS Feed 2.0, and copy link.
Then go to Outlook- Go through the following tabs- Tools, Account Settings, RSS Feeds. Then Click on New, and paste the link into the window. Then click OK, OK, and close. Repeat procedure for the OTCJ Blog RSS 2.0. From there forward, both the editions and the BLOG will automatically show up in your RSS feeds folder.
Internet Explorer 7.0 has another trick. Here, you have to go to the little star in the upper left hand corner with the green plus sign, click Add to Favorites, and copy and paste in the same links you used for Outlook. You can also go to the RSS button on the right hand side of the page, but you need to go to a BLOG to use the button.
Microsoft has an instruction page you can find by clicking here which gives a bit more information and probably better instruction.
If you want to insure delivery and bypass emails, those are several choices. Worth a few minutes to figure it out. It works really well with Outlook 2007 and a Yahoo! home page. Perhaps your email software allows RSS feeds as well.

| | | |
| --- | --- | --- |
| | Apple Could Be Turning From Rotten To Ripe For the Plucking | |
Coulda, Shoulda, Woulda. No courage. On January 15 I published a very brief BLOG post Q1 earnings for the digital entertainment giant. Simply stated, AAPL delivered stellar earnings, and the stock was getting killed. I liquidated all my positions at $172, and decided to stay firmly planted on the sidelines.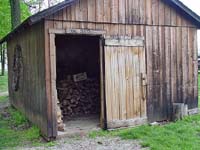 The market liked the numbers, but hated the slightly lower than expected sales of iPods- investors assumed their revolutionary music player has finally peaked and headed down the back of the mountain. I would suggest the iPod might have a few more years to climb. The product is being adopted by an "older generation", fueled by iPod docking stations in cars and on home digital entertainment systems.
This darling of the last Bull Market run has been taken out to the woodshed an absolutely beaten to death by the momentum players and short sellers.
Reference my January 23rd BLOG on AAPL- I suggested AAPL had the chance of finding its way all the way back to $108.50, giving up nearly half its value from the $200 high. Momentum can work both ways- the stock has momentum to the downside. Woulda, shoulda, coulda bought a put or gone short the day I decided to liquidate. Darn- $10k probably would have turned into about $50k thanks to the Bear claws.
As the stock approaches my absolutely ideal level of $108.50, it's worth taking another look at the chart. Here's a weekly chart going back to the $52 level early in the summer of 2007.
As you can see, on this chart the 61.8% Fibonacci retracement level is a touch higher than $108.50- it's at the $109.83 level. In either case- both numbers are just under $110.
Shares of AAPL have now dropped below the $120 level, and could be starting some sort of bottoming process. I can't say for sure how low it will go. Perhaps it made its lows this past week. I'm going to be watching carefully for a drop below $110. It will probably be short lived. It would represent a very promising and irresistible level to own AAPL.
On Friday, and hour before the market closed, stocks rebounded beautifully after another 1% drop across all the indexes in four holiday shortened trading days. Rumors of bond insurer bail outs sent the market up in the 11th hour. With all the S**T around, there's got to be a pony somewhere. Next week could be much improved.
Last weekend's suggestion to buy QQQQ calls was a loser. I sold mine for a $1,000 loss, then bought back on Thursday. I fininshed slightly in the money on Friday.
This weekend I am going to suggest a trade that has worked for me once this year already. I believe- #1- stocks are ready for a little bit more of a sustained rebound- I thought it might come last week, but no such luck. #2- Time Warner looks like it wants to participate.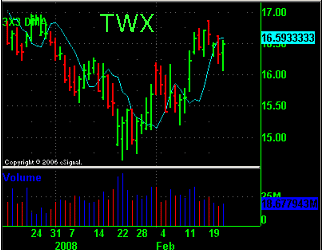 If TWX opens quietly or down a little on Monday, I plan to jump into the March 16 Calls. If I can get 1 to 1.5 points next week, I will happily jump out and take my profit. A 1/2 point drop in the stock will result in closing out the position and taking the loss.
The stock probably wants to pierce the 3x3 moving average you see in blue and head higher.
On Monday I will set up a new BLOG for these short term trades, which can be a lot of fun and a good way to make some trading profits in this brutal market environment.
Use the RSS Feeds to bypass emails if you want to receive the OTC Journal reliably.