Home Page : www.otcjournal.com
Email Questions or Comments To: editor@otcjournal.com

To OTC Journal Members:

| | | |
| --- | --- | --- |
| | Military and Homeland Security Track Record | |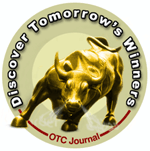 This weekend's idea is the fifth OTC Journal idea in this space. So far I am 3 for 4. Here's a recap in chronological order;

I hope you will agree this track record is impressive. I wish they all looked like this. I have been able to find some gems in this arena. This weekend I am going to try to go 4 for 5. This weekend's idea is the most prolific of the bunch in terms of both current revenues and demand for products. I hope you like this one. I love it.

| | | |
| --- | --- | --- |
| | Avoid Mistakes: Use The BLOG | |
As I mentioned in the year end wrap up, our biggest challenge is the mistake of paying too much for stocks. I tend to publish editions covering breaking news, and the stocks generally trade up on high volume after the fact. In our excitement we buy too early instead of exercising a little patience and waiting for the inevitable pullback.
One of my missions for 2005 is to provide timely commentary during moving markets. In order to achieve this goal, the OTC Journal BLOG (short for Web-Log) is now live and functioning. With the BLOG I have the ability to create commentary and get it posted to the web site in about 15 minutes. All you have to do is go to the site, click on the stock, and read the most current entry. This will provide guidance to help avoid mistakes.
You will find the BLOG on the right hand menu bar at the home page (WWW.OTCJOURNAL.COM). There you will find a section for each stock we cover. Simply click on the name to go to the most current entry. You will see the time of entry. There is also a field for a comment or question. If you visit the BLOG, you will find entries posted this week on BrandPartners (BPTR) which broke out Thursday, and Global E-Point (GEPT).
If you want some guidance on Monday morning concerning today's idea, simply visit the BLOG and see if I have made an entry. I should have something up with 30 minutes of the market's open.

| | |
| --- | --- |
| | Markland Technologies (OTC BB: MRKL): Developing the Most Important Technologies |
Markland Technologies plays one of the most important roles imaginable in developing technologies to fight terrorism. On behalf of the Department of Defense, MRKL is actively involved in the development of technologies which use sensors to detect hidden weapons, explosives, chemicals and gases.
The company's fortunes changed entirely in June of '04 when they acquired privately held EIOR Technologies. MRKL's revenue stream immediately rocketed from $6 million in annual revenues to $60 million in annual revenues (based on September quarterly revs of $15 million).
Wholly owned subsidiary EIOR is intimately involved in the development of remote sensing devices used to detect terrorists, bombs, weapons, and all kinds of threats.
Here's a run down of some of the companies products in development under contracts with the DOD:
Pictured here is MRKL's AWAS (Advanced Wide Area Search) vehicle. AWAS is a scout vehicle that consists of a Hummer equipped with a Forward Looking Infra Red Sensor, a High-Resolution Short Wave Infra Red Sensor, and a Ground Target Radar. The sensors are mounted on a gimbal which has been modified to allow it to perform a wide-area scan. The scanned sensor data is fed into an Automated Target Recognition software program for locating potential threat areas for the operator.
The AWAS is being developed in support of the Ground Systems Division at the Night Vision Laboratory, located at Fort Belvoir, Virginia. This systems can detect all kinds of threats at night.
Here is MRKL's U. S. Navy's Shipboard ACADA man-portable point detection system used to detect all classic nerve and blister agents as well as other chemical warfare agent vapors. The system is easily upgradeable for new and novel agents. Patented by the U.S. Navy, it is designed to operate onboard a ship and used to detect agents at low concentrations in real time while ignoring the presence of common vapor interferents. The system has visible and audible alarms.
It weights 26 pounds, runs on AC or batteries, and can detect chemical agents within 3 seconds of being activated.
Lastly, you are looking at two different versions of MRKL's Long Range Acquisition Scout Surveillance System (LRAS). These are portable devices currently under development in conjunction with the US Army Special Forces.
The devices use multi spectral infrared sensing to aid US Army Special Forces operators and other ground-based combat units in clearing and securing building interiors and perimeters as well as other urban structures in advanced combat areas of operations such as those found in Iraq and Afghanistan. These devices can detect the precense of potential dangers in buildings and caves.
These portable devices will not be field tested until the 3rd quarter of 2005.
This final one is the Coup de Grace, and the subject of today's press release:
As part of a top priority program funded by the US Army, MRKL has been using its remote sensor technology to develop technologies for Hidden Weapons and Explosives Detection. These guys are developing the technology that will eventually used to identify and thwart suicide bombers.
Using technology to identify suicide bombers in a crowd is a difficult undertaking. First, a thermal component used at varying ranges must be incorporated. Secondly, the system must optimize the processing bandwidths. Thirdly, the system must be developed with Aided Targeting Software.
I don't understand exactly how the varying technologies all work together. However, I do know the company announced Friday it has successfully completed the first phase of testing of this new suicide bomber detection technology. Within the press release CEO Bob Tarini states: "When all of these different detection technologies are integrated into a single, unified solution, the system can attain an extremely high level of accuracy in the detection of potential threats with a relatively low rate of false alarms".
Now that you have a clear picture of the company's products, here are some thoughts on the investment potential. There are currently 58 million shares I&O on MRKL. If all warrants outstanding are exercised, there will be another 20 million shares issued.
Therefore, we have a company with a market value of about $43.5 million, growing organically somewhere in the 30% range, and currently delivering about $60 million in annual revenues based on the September quarterly results of $15 million. You can own this stock for less than 1 times annual sales- a bargain basement level by any metric.
While the company operated at a loss in the September quarter, they were in fact cash flow positive from operations. If you extract all the one time expenses related to the acquisition, and all the non-cash expenses, the company generated about $1/2 million in positive cash flow. MRKL's management feels it won't need to raise any more capital in the near future. As the stock moves up in price and warrants are exercised, the proceeds will fulfill the company's capital needs.
In keeping with the theme of not repeating past mistakes, today you are reading about a company that has already completed its financing, and got it's registration statement effective back in November. The underlying cheap stock has already been absorbed by the market for the most part.
MRKL is a brisk trader with a big following. It averages about 1.8 million shares per day in volume. Back in September when the company announced it had generated $6 million in sales in August it traded 39 million shares in one day. Unlike past premature ideas, this stock has been wrestling with an excess supply from the financing, but is closing in on a critical breakout point.
On the fundamental side the future is bright. MRKL is developing all these technologies for the US Military on the government's nickel. Once completed, the company gets to manufacture the final products and sell them to the military.
Most of the products in development have cross over applications towards fulfilling our needs for homeland security. Over the next several years MRKL will be in a position to manufacture and distribute domestic versions of these products at much higher margins. Long term, these are the kinds of developments which could put the stock many times higher than where it currently trades.
In the short term, MRKL's post close announcement of successful testing of its suicide bomber technology could send the stock surging up the charts. I feel the stock is definitely a buy up to $1, but use caution if the opening gap is too big. Check the OTC Journal BLOG for market feedback about 1/2 hour after the open on Monday. If it doesn't gap open too high, don't be afraid to take a position.
Here is the complete text of Friday's news release for your review:

Press Release Source: Markland Technologies, Inc.

Markland Developing Next-Generation Technologies to Provide Early Detection of Suicide Bombers

Friday January 7, 5:14 pm ET

Company's Development Program Creating Multiple Solutions to Stop Terrorists and Armed Assailants

RIDGEFIELD, Conn.--(BUSINESS WIRE)--Jan. 7, 2005-- Markland Technologies, Inc. (OTCBB:MRKL - News), a defense and homeland security company transforming advanced laboratory technology into real-world products, has announced successful test reviews of its suite of next-generation electronic imaging and other detection solutions to spot suicide bombers and other armed terrorists before they can carry out their attacks. The announcement was made by Robert Tarini, Chairman and CEO of Markland.

The initial development and testing phases of the suicide bomber detection systems have been conducted under contract with the U.S. Army. Markland subsidiary EOIR Technologies has kept the technology on a fast-track development cycle, and upon receipt of subsequent rounds of Department of Defense funding, believes it will be able to quickly deliver live, field-ready systems.

"Army leaders have made it clear that the development of more effective technologies and methods to stop suicide bombers is a top priority, and Markland has responded with an approach that we believe will yield the best results in the shortest possible time," said Mr. Tarini.

While the military has funded development of the suicide bomber detection systems, Markland expects the products and technologies will also be employed in civilian settings in the United States, such as at federal buildings, shopping areas, sporting events and other potential terrorist targets. "We hope that such attacks don't occur on American soil, but we cannot ignore the risk," said Mr. Tarini. "We believe our products will eventually provide an additional measure of security for innocent civilians in the U.S. and abroad."

Markland has developed a unique three-tiered screening system that combines a range of existing thermal imaging and other advanced sensor technology with new Markland-developed software analysis techniques. Together, they generate detection capabilities, which the company believes can be significantly more powerful than could be achieved by any single system.

"When all of these different detection technologies are integrated into a single, unified solution, the system can attain an extremely high level of accuracy in the detection of potential threats with a relatively low rate of false alarms," said Mr. Tarini. Approximately ten different detection technologies comprise the Markland suicide detection protocols, among them: thermal and electromagnetic sensors and imaging systems, vapor sensors, metal and chemical detection processes to spot firearms and explosives, and systems that can identify biological, radiological and other threats. Most of the individual systems are already proven through longtime use by the military and in civilian implementations around the world, contributing to the Markland system's robustness and dependability.

One of the most important elements of the entire protocol is Markland's proprietary "stand-off" detection system - detection technologies capable of identifying potential threats at far greater distances than had previously been achieved. Precise distances are classified by the military, but such long range detection is a critical part of identifying and stopping dangerous individuals before they can reach their targets and cause bloodshed.

Suicide bombings and other types of armed terrorist attacks are a daily danger for innocent civilians and official personnel in many nations around the world. U.S. troops in Iraq last month suffered heavy casualties in a suicide bombing attack on a dining facility, and they continue to face such deadly threats at traffic checkpoints and in crowded public areas.

Markland's EOIR subsidiary currently holds a five-year omnibus contract with the U.S. Army's Night Vision and Electronic Sensors Directorate (NVESD), one of the military's most advanced research and development arms. The ongoing five-year omnibus contract may potentially provide a maximum ceiling amount of up to $80 million in fiscal year revenues for Markland. The contract has a potential value of approximately $406 million over the life of the contract.

About Markland Technologies

Markland Technologies, Inc. is committed to setting next-generation standards in defense and security through the provision of innovative emerging technologies and expert services. The Company is engaged in the identification of advanced technologies currently under development in laboratories, universities and in private industry, and in the transformation of those technologies into next-generation products. Markland's solutions support military, law enforcement and homeland security personnel to protect the nation's citizens, borders and critical infrastructure assets from the threat of terrorism and other dangers. Through strategic development, Markland focuses on the creation of dual-use technology and products with applications in both the defense market and civilian homeland security and law enforcement fields. The Company is a Board Member of the Homeland Security Industries Association, and is a featured Company on HomelandDefenseStocks.com; additional details can be viewed at http://www.homelanddefensestocks.com/Companies/MarklandTech. For more information about the Company and its products, please visit the Markland home page at http://www.marklandtech.com.

Forward-Looking Statements

Investors are cautioned that certain statements contained in this document as well as some statements in periodic press releases and some oral statements of Markland Technologies officials during presentations about Markland Technologies, are "forward-looking" statements within the meaning of the Private Securities Litigation Reform Act of 1995 (the "Act"). Forward-looking statements include statements which are predictive in nature, which depend upon or refer to future events or conditions, which include words such as "expects," "anticipates," "intends," "plans," "believes," "estimates," or similar expressions. In addition, any statements concerning future financial performance (including future revenues, earnings or growth rates), ongoing business strategies or prospects, and possible future actions, which may be provided by management, are also forward-looking statements as defined by the Act. Some of the factors that could significantly impact the forward-looking statements in this press release include, but are not limited to: a reduction in order rates from the Army's Night Vision and Electronic Surveillance Directorate, difficulties integrating our acquisition of EOIR, insufficient cash flow to continue to fund the development and marketing of the Company's products and technology; a rejection of the Company's products and technologies by the marketplace, and; disputes as to the Company's intellectual property rights. Forward-looking statements are based upon current expectations and projections about future events and are subject to risks, uncertainties, and assumptions about Markland Technologies, its products, economic and market factors and the industries in which Markland Technologies does business, among other things. These statements are not guarantees of future performance and Markland Technologies has no specific intention to update these statements. More detailed information about those factors is contained in Markland Technologies filings with the Securities and Exchange Commission.

Markland Technologies, Inc is a featured Company on http://www.HomelandDefenseStocks.com, a service for which Markland compensates the provider.

For full details, click here: http://www.homelanddefensestocks.com/Companies/MarklandTech/NewsReleases.asp. (Due to its length, this URL may need to be copied/pasted into your Internet browser's address field. Remove the extra space if one exists.)

--------------------------------------------------------------------------------
Contact:
Markland Technologies
http://www.marklandtech.com
or
ECON Corporate Services
Dawn Van Zant, 866-730-1151
dvanzant@investorideas.com
or
Trevor Ruehs
truehs@investorideas.com
---