Home Page : www.otcjournal.com
Email Questions or Comments To: editor@otcjournal.com

To OTC Journal Members:


Catch Me Live

Catch me LIVE!! on TV every Monday from 12 to 2PM eastern on the BigBizShow. The show broadcasts on several hundred radio shows live, is syndicated to over 30 million cable homes, and is broadcast on the Armed Forces Radio Network in 79 countries.

Simply go to www.bigbizshow.com, and click on the "Watch Us Live" button. I'm the guest host on the show every Monday.
| | |
| --- | --- |
| | Nuvilex (OTC BB: NVLX): Sooner Or Later |
NVLX is one of my long term ideas that has not made a major move- yet. It will. In my view, this stock is poised to provide some really significant returns - and it could be soon. The company is like a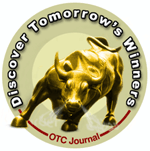 duck on a pond- cruising along serenely, but paddling furiously below the surface.
If you're not convinced this is a little stock with a really big story, you should watch my coverage of the company from Monday's BigBizShow. If you go to the OTCJournal home page, you can hit the play button on the video player, and the discussion will come up.
Go to www.otcjournal.com and click on the arrow. Whenever I think about the clinical results the company delivered in the German Phase I/II trial on late stage Pancreatic Cancer, I see dollar signs for us early stage investors.
Remember, the "Cell In A Box" technology was able to reduce tumor size by 25% to 50%, double average survival times, increase the one year survival rate to 36% from 11%- all of this with 1/3 the normal chemo dosage.
This little 6 cent stock is going to explode before too long. The company is active on a couple of fronts- raising capital was addressed in yesterday's announcement. As the company moves forward, it won't stay at $.06 for too long. You have to own it before the breakout- not after. Here's yesterday's news:
Yesterday, NVLX announced it has retained Dawson James Financial Services - a boutique investment banking firm. I'm certain one of Dawson James roles for the company will be to raise capital so the company can move forward rapidly on its three major initiatives.
NVLX plans to focus in three areas with the cell encasulation technology- Pancreatic Cancer, Diabetes, and Stem Cell therapy. All three arenas will benefit greatly from more efficient delivery of their respective therapies.
I love where this one is headed. If you want to read my initial presentation on the company, simply click here. I still like this little 6 cent stock for a breakout and run to $.25 before too long. I'd rather have you in ahead of the move, than have you chase it up the charts.
| | |
| --- | --- |
| | Loving Liberator (LUVU)- up 156% |
I'm going to provide an update on Liberator sometime tomorrow. Do you remember my January 8th Edition on the company? I knew the fundamentals were just too strong for this stock to remain at $.15 for very long. After all, the company has delivered $60 million in revenues since 2002, and appears to be on track to deliver over $20 million this year.
LUVU printed at $.385 today- that's a 156% return since my initial presentation in January. I personally invested in this company back in 2007 at $.25 and am still holding over 90% of the shares, so I'm finally starting to make some money.
More on this one tomorrow. I believe the stock could be worth $1 if they continue on their current path. Click Here to read my initial present ion. Loving it so far, but there might be much better levels ahead.
---
A reminder: Catch me live on TV every Monday from 12 to 2PM eastern.
Simply go to www.bigbizshow.com, and click on the "Watch Us Live" button. I'm the guest host on the show every Monday.
Home Page : www.otcjournal.com
Email Questions or Comments To: editor@otcjournal.com