Home Page : www.otcjournal.com
Email Questions or Comments To: editor@otcjournal.com

To OTC Journal Members:

| | |
| --- | --- |
| | Right Idea, Better Timing |
After pretty much having our way with small stocks from June to early October, we entered a bit of a corrective phase. My last two new ideas- CREG and ICLK have several things in common- they are both delivering huge growth, making gobs of money, and undervalued. They also were both introduced near the high end of their trading ranges, and have both since corrected as a normal course of the process of working higher.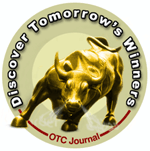 Today's new idea doesn't share the challenge of being near the high end of its trading range, so I couldn't be more excited about our starting point. Based on corporate developments, I expect this stock to be a gigantic winner from current levels. It's about as inevitable as it gets in the small stock world.
The timing on this one should be impeccable. The stock is nearly cut in half from its August high, and this company is just rocking on the fundamental side. As more investors look at this idea, they will pile in- behind you if you like the idea and act now.
The OTC Journal is the first one out on this idea. It give you the competitive advantage. When I really believe in a situation, I don't mince words.
Read on.

| | |
| --- | --- |
| | Techno Babble For Dummies |
When it comes to techno babble, unfortunately, I'm not bilingual. I only speak one language- English. I don't speak fluent techno babble. The guys I work with do because they are techies- it's their native tongue.
If you reading the web page version of this edition, you're viewing it at the URL. It's in HTML, was delivered by your ISP, by IP, through HTTP. Now- if you know all that means, you are Internet techno babble literate.
Doctors are great at this as well. Have you torn your ACL? Measured your BMI? Had an EMT do CPR on you? All these techno babble acronyms are pretty much DOA for me.
Those are just acronyms. There are plenty of big words thrown around that seem to have a lot of meaning to analysts, and the media just assumes we all know what they're talking about.
I hear the phrase "Enterprise" a lot. What does it mean? To tell you the truth, I had to look it up to get a clear understanding. In short- when you hear the phrase "Enterprise", it just means a very large business network, or a car rental company. Today, I'm not renting a car.
A large business network could be a lot of things, so it's one of those catch all phrases. A large business network could be anything where information flows around. It could be voice, video, data, files- anything, and it could be accessed from any kind of device from the smallest cell phone to the largest super computer.
In fact, it's becoming a bit of a mess. There's lots of very clever manufacturers designing great stuff for these huge networks, but there's a gigantic flaw in the process of streamlining the flow of information in Enterprise systems- in many cases, the companies make these giant capital commitments, and then find out they're not ready.
If you're a company that can afford to write a check to Cicso (NASDAQ: CSCO) for $30 million for an Enterprise system, it's likely you're in the Fortune 100, gigantic, old, and have locations world wide. Who figures out if you all these offices have the required infrastructure in place to handle the system?
Beacon does, and for big bucks.

| | |
| --- | --- |
| | Beacon Enterprise Solutions (OTC BB: BEAC): The Go To Guys |
This presentation is going to be short and sweet because you only need a couple of facts. I'll save you lots of time for considering how much of this stock you want to own. On US soil, this is the most exciting story in small cap stocks I've looked at all year.
Here's how Beacon describes itself: "an emerging global leader in the design, implementation and management of high performance Information Transport Systems ("ITS") infrastructure solutions."
In English- here's what this means. You're a giant company, and you want to put in a giant Enterprise system. Who figures out if the dozens of offices you have worldwide have the cables, power, wireless, workstations- whatever it takes, to handle it?
BEAC does, and they get you ready on a global basis.
Here's the Beacon picture- the company has about 150 employees today. Their fiscal year ended at the end of September. I expect them to report about $11 million in revenues for the year, and lose money.
Their customer base includes Merck, Fidelity, Nationwide, Volvo, UPS, Yum Brands, and many others.
On October 19th, BEAC announced it had been engaged by the #29 company of the Fortune 100. The size of the contract- $27 Million. That's right- it's not a typo- $27 million. The project- ITS infrastructure documentation, design, installation and ongoing management services in 39 European countries with an initial focus in Switzerland, France, Germany, Italy, Netherlands, Belgium and the United Kingdom and will expand to include the additional 31 countries throughout Europe as well as the Middle East and Africa covering 450 buildings.
Lest you think this means BEAC will generate $27 million in revenues next month- that won't be the case. This engagement is so expansive it will take 3 years to complete.
The client company is not named in the release, but if you take the time to look at past SEC filings, you get it. J&J (NYSE: JNJ) enjoys about $61 billion in annual revenues on a global basis in health care product sales. Next time you put on a Band Aid, think of BEAC.
That's a real eye opener, and reason alone to own the stock. Lest you think this was a one time event, think again.
Today, just after the market closed, BEAC announced mega contract #2. $24.8 million signed, and announced today. The client is described as "one of Europe's leading providers of premium carrier-neutral data centers and managed services." I don't know who it is, but I'll watch the SEC filings for a clue.
I don't know what a carrier-neutral data center is, but I know what a $24.8 million contract means to a company like BEAC, coupled with $27 million last month.
$11 million last year- $50 million in new contracts in the last three weeks. All this spells a higher stock price to me.

| | |
| --- | --- |
| | 2010 Outlook |
I really don't think there's a lot more to cover on this idea but to take a quick look at how this all plays into FY 2010 financial performance.
Here's an image from a recent BEAC presentation for investors. As you can see, the company estimates it will report about $11 million in revenues in FY 2009. FY 2009 is already over for them. It ended in September, and final numbers will be reported in BEAC's annual audited 10K report, due out by Jan 1.
Looking out to FY'10, which has already started, the company believes it will deliver $32 million this fiscal year- about a triple from 2010. The company is not formally forecasting how profitable it will be beyond stating they believe they will be profitable in FY'10 and end the year with about 300 global employees.
Their gross margins have historically run about 30%, so they should have nearly $10.6 million to cover their corporate overhead. As a lot of this new business is more service oriented, I'll bet I'm low on the $10 million. Fixed costs won't go up in concert with revenues as the higher costs associated with the projects comes out of gross profits.
It all likely pencils out to a company with $2 to $3 million net next Fiscal year. Let's say $2.5 million to split the difference, which translates to about $.125 EPS on 20 million I&O. That's a guess. I'll be able to target the numbers better as the quarterly results come through.

| | |
| --- | --- |
| | Technically Perfect |
I don't know what the market was looking for in this idea. My guess- the market expected the company to start delivering these mega contracts over the summer because the stock behaved as if those were the expectations.
Looking back to March which is when all the fun started for the stock market, BEAC moved from about $.35 to a high of $1.80 in July. It looks to me like the market was expecting big things out of the company.
Since then, it seem as if those early investors kind of forgot about it, and it's drifted back down to just under $1.
This represents a nearly perfect 61.8% retracement of the entire move over that 4 month period in time, so this is an absolute bargain in the $1 range.
Here's a couple of observations about BEAC you should find useful. First, consider the numbers. The company just announced $52 million in new contracts. However, they are only forecasting $32 million in the current year. When coupled with their current business, one can easily conclude BEAC has already booked a substantial amount of business for both FYs '11 and '12, thereby diminishing the long term risk considerably. Likely, there's more to come.
Secondly and probably more importantly- in many cases with microcap situations, you take your position at $1, and hope and pray the company will deliver $50 million in contracts. In this case, it's already done. No one knows about it, but now you do, and more will follow.
I just don't see a lot of downside here, and tons of upside. I don't see any fundamental reason this stock couldn't trade to $4 and easily make the jump to a higher exchange.
My initial summary thoughts- I'd accumulate right up to $1.30- SSL $.75. If the stock gaps up at the open off the monster post close news, you might want to wait for it to cool off a little. Be smart. Short term price target- back to the $1.80 high- longer term- $4.
Here's today's blockbuster news:

Beacon Signs $24.8 Million Agreement with Pan-European Market Leader
-- Full Contract Revenue Recognition Projected in Fiscal 2010 --
-- Expands Presence in Europe with Carrier Neutral Data Center Project --
LOUISVILLE, Ky.--(BUSINESS WIRE)--Beacon Enterprise Solutions Group, Inc. (OTCBB: BEAC - News) (www.askbeacon.com), an emerging global leader in the design, implementation and management of high performance Information Transport Systems ("ITS") infrastructure solutions, has signed a project management services agreement with one of Europe's leading providers of premium carrier-neutral data centers and managed services, for the design and construction of a data center in Zurich. The value of the contract is approximately $24.8 million, with completion of the entire project expected during the Company's fourth fiscal quarter ended September 30, 2010.
The two phase project involves the planning, design, construction management and commissioning of the data center, including climatization, power and telecommunications. Phase 1, which has already commenced, is expected to be completed no later than March 31, 2010. Phase 2 of the agreement involves the completion of the full data center and is expected to be finished by September 30, 2010.
"We are pleased that this client selected Beacon Enterprise Solutions to be the construction manager and provide the design, integration and implementation of their communications needs for their new carrier-neutral datacenter," said Bruce Widener, CEO of Beacon Enterprise Solutions. "At $24.8 million, this contract represents a significant engagement, and sets the pace for expected record growth in 2010."
Mr. Widener continued, "Earlier this month we expanded our relationship with a Fortune 100 pharmaceutical client to provide them infrastructure, design and support in the EMEA region. With work for this client already underway, we are becoming more well-known for our international expertise, as evidenced by this new agreement."
As a provider of carrier-neutral data centers, this client owns and operates 50,000 square meters of colocation space within 25 data centers in 11 countries across Europe. It delivers a full set of services that allow more than 1,100 companies to securely house, connect, monitor and maintain mission-critical IT equipment. Its comprehensive portfolio of data center services allows its customers to optimize the availability, scalability and flexibility of their IT infrastructure while minimizing capital expenditure.
Carrier-neutral colocation is becoming an increasingly popular trend in Europe, where, according to a recent study, the growth in demand for outsourced data centers is expected to result in an estimated CAGR (Compound Annual Growth Rate) of 23% in the sector's major European markets. Increases in demand for high-bandwidth consumer and business applications are contributing to this trend, as is the cost-benefit of outsourcing to a carrier-neutral data center.
Rick Mills, President of Beacon Enterprise Solutions, commented, "This engagement marks the second major international assignment that we announced within a three-week period. We were selected based upon our company's expertise and our ability to plan and execute mission-critical technology system projects according to the highest level of industry standards. We look forward to working with the client to create this new data center that will dramatically increase the bandwidth available in the Zurich region."
About Beacon Enterprise Solutions Group, Inc.
Beacon Enterprise Solutions Group is an emerging global leader in the design, implementation and management of high performance Layer 1 network solutions. Beacon offers fully integrated, turnkey IT infrastructure solutions capable of fully servicing the largest companies in the world as they increasingly outsource to reduce costs while optimizing critical IT design and infrastructure management. Through an integrated team approach, Beacon offers a broad range of products and services including IT infrastructure design, implementation and management, application development and voice/data/security system integration, installation and maintenance. Beacon's client roster includes state and local agencies, educational institutions, and over 4,000 companies ranging in size from mid-sized companies to the Fortune 500. Beacon is headquartered in Louisville, Ky., with regional headquarters in Dublin, Ireland and Zurich, Switzerland and personnel located throughout the United States and Europe.
For comprehensive investor relations material, including fact sheets, research reports, interviews and video, please follow the appropriate link: Investor Relations Portal, Research Report and CEO Overview Video
For additional information, please visit Beacon's corporate website: www.askbeacon.com
This press release may contain "forward looking statements." Expressions of future goals and similar expressions reflecting something other than historical fact are intended to identify forward-looking statements, but are not the exclusive means of identifying such statements. These forward-looking statements may include, without limitation, statements about our market opportunity, strategies, competition, expected activities and expenditures as we pursue our business plan. Although we believe that the expectations reflected in any forward looking statements are reasonable, we cannot predict the effect that market conditions, customer acceptance of products, regulatory issues, competitive factors, or other business circumstances and factors described in our filings with the Securities and Exchange Commission may have on our results. The company undertakes no obligation to revise or update any forward-looking statements in order to reflect events or circumstances that may arise after the date of this press release.
Contact:
Beacon Enterprise Solutions Group, Inc.
investors@askbeacon.com
or
Porter, LeVay & Rose, Inc.
Marlon Nurse, V.P. – Investor Relations
212-564-4700
or
Trilogy Capital Partners
Darren Minton, Vice President
800-592-6067
Home Page : www.otcjournal.com
Email Questions or Comments To: editor@otcjournal.com