Home Page : www.otcjournal.com
Email Questions or Comments To: editor@otcjournal.com

To OTC Journal Members:

| | |
| --- | --- |
| | A Smokin' Hot Penny Stock: Positron (POSC) |
Did you wake up today worrying about the global supply of medical radioisotopes? I know I didn't. Strontium-82 and other medical radionuclides were not the subjects of concern this Sunday morning.
I know it wasn't foremost on my mind. However, it's on the mind of penny stock lovers as one small company is making an aggressive move into this sector. One day last week this stock traded 400,000 shares. The next day it traded 37 million shares.
Now, that's some interest. Oh, and by the way, the day it traded 37 million shares, the stock was up 150% during intraday trading.
Now, I don't know a lot about medical radionuclides, but I've done a little research, and this is cutting edge medical stuff. Here's the scoop:
Radionuclides are small amounts of nuclear material that can be combined with other elements to form pharmaceutical chemical compounds. These compounds can then be admistered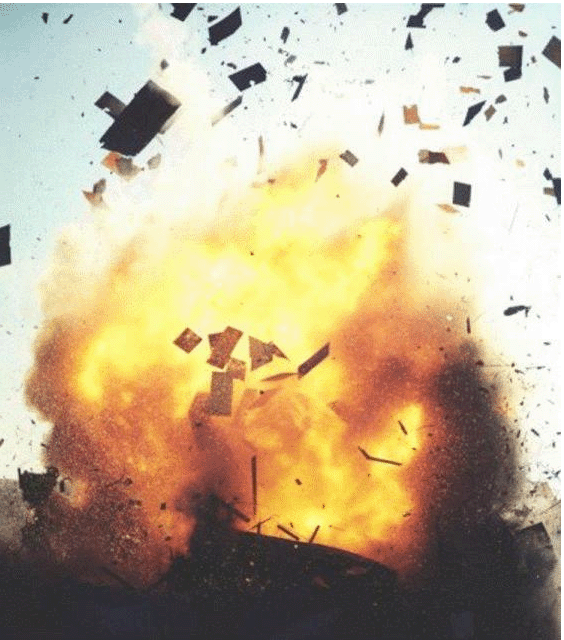 to a patient, and then these nuclear materials attach themselves to diseased tissues internally.
The patient is then treated with a laser targeted radiation- allowing for the destruction of diseased tissues and/or cancerous tumors.
Here's how this therapy would compare to a military operation. Imagine the Navy Seals sneaking into a Taliban compound and hiding a little homing device. Our Navy ship could than launch a missile, guided by the homing device. The net result- Boom- a bunch of dead bad guys.
Formerly unknown, but now red hot Positron Corp (OTC BB: POSC) announced last week it will be acquiring Manhattan Isotope of Lubbock, Texas. The acquisition is expected to close January 2, 2012.
Apparently, Manhattan Isotope produces the medical radioisotope strontium-82. As a follow up last week, POSC announced Manhattan Isotope will collaborate with French based Arronax to further develop these radio isotopes.
The stock market has loved this series of announcements, and the stock is red hot.
Here's why it's time to catch the next run.

| | |
| --- | --- |
| | Positron (OTC BB: POSC): A Perfect Chart |
What to see a chart with a perfect entry level?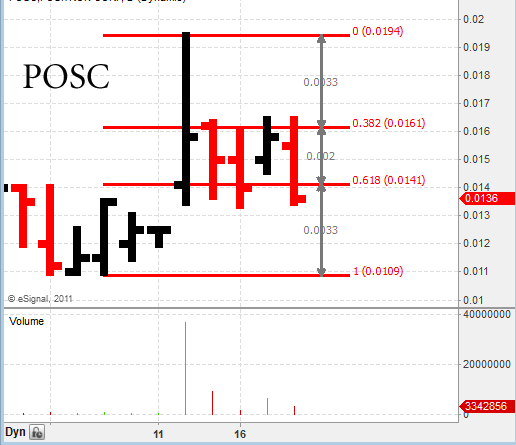 If you see a stock breakout, and you want to get on board, but you don't want to buy at the top, use Fibonacci Retracements. Fibonacci, a 12th Century mathematician, identified certain ratios that constantly re occur in nature.
One of the key numbers in the Fibonacci Ratios is 61.8%- measure your arm sometime. If you let your arm hang on the side of your body, I'll bet then end of your fingers is very close to 61.8% of your height from the ground.
61.8% retracements are ideal entry level. If you take your position, and the stock wants to fall farther, just sell and get out. That stock is not going to bounce.
It might choose to trade sideways for a day or two. If, within a reasonable amount of time, it doesn't head back up, you know it's not going to. A 61.8% retracement is about the lowest risk entry point you'll find for a hot stock.
Here's the POSC chart. Note early last week the stock was trading at 1.1 cents very quietly. Boom- the news takes the stock from 400k shares one day to nearly 40 million the next day.
Any surge like that is going to be met with a pullback. It's normal and natural. It's also going to draw attention, so those that felt they missed the first move might start piling in on the pullback.
The perfect 61.8% retracement from last week's action for POSC is $.0141- or 1.4 cents. Friday's last trade was 1.36 cents, so close enough for me.
It's worth noting a move just to 2 cents yields a 47% return over Friday's close. Need I say more.
As I said- a perfect little penny stock with a perfect entry level. The odds are in your favor at the open tomorrow. You can own a lot of stock risking very little capital.
Home Page : www.otcjournal.com
Email Questions or Comments To: editor@otcjournal.com